Members of Historic Hotels Worldwide include a number of the world's oldest academies, colleges, and universities. Steeped in a tradition of culture and history, these age-old institutions have an affinity with and are closely allied with some of today's most celebrated historic hotels.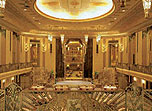 Cincinnati, Ohio, United States
The Hilton Cincinnati Netherland Plaza is a true French Art Deco masterpiece. Opened in 1931, the hotel was an integral part of the first multi-use complex in the United States. Described as a "city within a city," the complex featured an office tower, hotel, fully automated garage, shopping complex and restaurants. Today, the hotel is the city's crown jewel.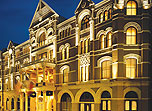 Austin, Texas, United States
The claim that everything's bigger in Texas shouldn't merely be taken literally. Witness the Driskill, Texas' premier luxury hotel positioned in the heart of the state capital.
Richmond, Virginia, United States
When Charles Dana Gibson and Irene Langhorne--better known as the Gibson Girl--hosted their engagement party on Halloween 1895, little did they know that their nuptial celebration would be the first in a long legacy of events at Richmond's most revered hotel, The Jefferson. It opened that All Hollow's Eve over 100 years ago, and from that moment it was a sight to behold.
Academy, College & University Hotels
Your search returned 3 results.