From the past to the present, world-famous chefs proudly serve their specialty menus at Historic Hotels Worldwide restaurants and bars.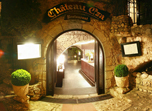 Eze Village, France
Royally perched on magnificent ancient cliffs that soar more than 400 meters above the Mediterranean Sea, the exquisite Chateau Eza welcomes guests to a fairytale enchantment filled with mesmerizing views of the shimmering sea, charmed furnishings and antiques, and dreamlike embellishments and trappings – all tucked away in a magical 1000-year-old medieval village.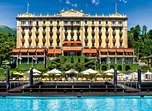 Tremezzo, Italy
Immersed in the beauty of Lake Como offering a spectacular view of the glorious ancient town of Bellagio, and the surrounding Alps, the century old Grand Hotel Tremezzo is a treasured example of the finest authentic Italian-liberty Art Nouveau palaces. With period furnishings, intricate in detail, and unparalleled views, Grand Hotel Tremezzo envelopes the decadent ambiance throughout the walls and invites a sensation of harmony and tranquility.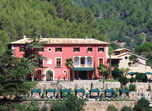 Puigpunyent, Spain
An architectural beauty, Gran Hotel Son Net is the crown jewel of Mallorca, Spain. The 17th-century historic mansion offers exquisitely appointed rooms, authentic cuisine, and a wide array of outdoor entertainment. The recipient of endless accolades, including Trip Advisor's "Certificate of Excellence" 2011, Gran Hotel Son Net features soaring ceilings, important works of art, and grand guestrooms.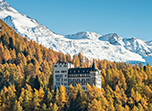 Sils Maria, , Switzerland
Boasting superior views of the Swiss mountains and forests surrounding the property, Hotel Waldhaus Sils stands frozen in time, with old-world comfort, but full of modern conveniences for the modern traveler.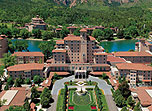 Colorado Springs, Colorado, United States
For over a century, dreamers, farmers, investors, and even a Prussian Count have envisioned a grand future for the Colorado Springs area. One man, Spencer Penrose had the dedication and vision to bring the dream to reality. That dream was The Broadmoor, which officially opened on June 29, 1918 and marks its 90th anniversary in 2008.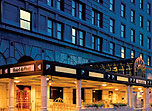 Wilmington, Delaware, United States
January 15, 1913, saw the opening of Wilmington's Hotel du Pont, one of the most lavish hotels of America's Gilded Age and an immediate rival to Europe's finest hotels. Today, the Wilmington, Delaware hotel is situated in the heart of the picturesque and historic Brandywine Valley. Hotel du Pont is as rich in history as it is in atmosphere; reminiscent of a time of craftsmanship and courtesy, a time of ease and elegance, and a time of sophistication and style.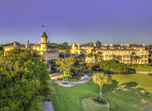 Jekyll Island, Georgia, United States
Nestled amid live oak trees draped in Spanish moss, this Victorian landmark enjoys a setting of unspoiled natural beauty on Jekyll Island. The island is protected from extensive development by the state of Georgia and has miles of beaches and forest waiting to be explored. Here, millionaires wintered in scenic seclusion for decades, enjoying many amenities and privileges.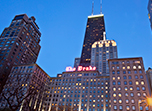 Chicago, Illinois, United States
Set in the prestigious Gold Coast neighborhood at the start of the Magnificent Mile, The Drake Hotel is a historic Chicago landmark featuring breathtaking views of Lake Michigan, 535 thoughtfully-appointed guestrooms and 74 suites, indulgent amenities, lavish ballrooms and event venues, and unparalleled service.
Boston, Massachusetts, United States
As you pass through the sculpted bronze doors of this historic hotel, you are enveloped in the charm and timeless beauty that have made the Omni Parker House a Boston landmark since 1855.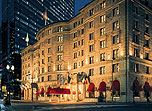 Boston, Massachusetts, United States
The Fairmont Copley Plaza, Boston has been a landmark in Boston's historic Back Bay since 1912. Constructed on the original site of Boston's Museum of Fine Arts, the hotel derives its name from the great American painter John Singleton Copley (1738-1774). The hotel's architect, Henry Janeway Hardenbergh, combined French and Venetian Renaissance influences on the building's facade.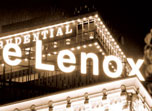 Boston, Massachusetts, United States
As much a Boston landmark as Fenway Park or Faneuil Hall, the handsome Italianate structure in Copley Square famously known as the Lenox was built in 1900 in just eight months at a cost of $1.1 million -- one of the first hotels constructed in Boston's Back Bay.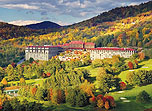 Asheville, North Carolina, United States
The Omni Grove Park Inn is one of the South's best-loved resorts. Built in 1913 with granite stones mined from Sunset Mountain, the resort overlooks the city of Asheville, N.C., and provides majestic views of the Blue Ridge Mountains. With its distinctive undulating red clay tile roof and original Roycroft furnishings and fixtures, The Grove Park Inn captures the essence of the Arts and Crafts movement.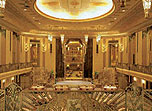 Cincinnati, Ohio, United States
The Hilton Cincinnati Netherland Plaza is a true French Art Deco masterpiece. Opened in 1931, the hotel was an integral part of the first multi-use complex in the United States. Described as a "city within a city," the complex featured an office tower, hotel, fully automated garage, shopping complex and restaurants. Today, the hotel is the city's crown jewel.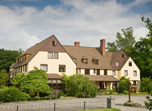 Hawley, Pennsylvania, United States
This beautiful and serene inn is a top 25 AAA 4-Diamond Historic Hotel, decorated with carefully chosen Arts & Crafts style furnishings such as hand-screened Bradbury and Bradbury wallpapers and hand-made Fulper tiles. The 21 rooms are true to the Arts and Crafts style and enhanced with featherbeds, luxury linens, and modern amenities. Environmentally responsible as well, the inn has been recognized for its water and energy conservation.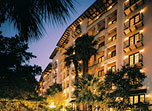 San Antonio, Texas, United States
Ideally nestled along the historic River Walk in downtown San Antonio, the Omni La Mansión del Rio is where history comes alive. The Texas Historical Commission and the San Antonio Conservation Society have designated Omni La Mansión del Rio as a historical treasure. The historic hotel includes 338 comfortably appointed guest rooms and suites, the award-winning Las Canarias restaurant and its Texas Hill Country-infused menu, flexible meeting and event space and unparalleled service standards.
Famous Chefs
Your search returned 15 results.