Generations of talented chefs have developed world-class menus, regional cuisine, and specialty dishes that have tempted the refined palates of the world, and member hotels of Historic Hotels Worldwide proudly continue to serve this celebrated cuisine today.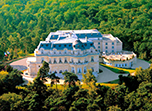 La Chapelle en Serval, , France
Situated just an hour from France's bustling capital of Paris, The Tiara Château Mont Royal Chantilly offers an array of spacious guestroom and suite options, upscale dining, elegant meeting spaces, a lavish spa, and plentiful amenities complemented by a distinctly historical ambiance. Boasting lush greenery and seclusion into nature's most exquisite landscape, the Tiara Château Mont Royal Chantilly invites guests into a world of scenic perfection.
Colorado Springs, Colorado, United States
For over a century, dreamers, farmers, investors, and even a Prussian Count have envisioned a grand future for the Colorado Springs area. One man, Spencer Penrose had the dedication and vision to bring the dream to reality. That dream was The Broadmoor, which officially opened on June 29, 1918 and marks its 90th anniversary in 2008.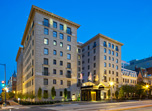 Washington, District of Columbia, United States
Inspired by American Founding Father, Thomas Jefferson, The Jefferson, Washington, DC is a historic hotel illustrating and celebrating its namesake throughout its design and character. Blending distinct European and Washingtonian styles with America's past and modern luxuries, the stately Beaux Arts hotel was built in 1923, originally constructed as a luxury residential building, home to the city's elite.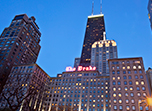 Chicago, Illinois, United States
Set in the prestigious Gold Coast neighborhood at the start of the Magnificent Mile, The Drake Hotel is a historic Chicago landmark featuring breathtaking views of Lake Michigan, 535 thoughtfully-appointed guestrooms and 74 suites, indulgent amenities, lavish ballrooms and event venues, and unparalleled service.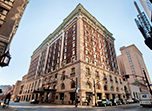 Louisville, Kentucky, United States
One of the grandest, luxury hotels in Kentucky, The Seelbach Hilton Louisville is a Beaux-Arts landmark located in the heart of downtown Louisville's business and entertainment district. Experience Louisville in one of Seelbach Hilton's 321 luxurious accommodations or a variety of exquisite historic restaurants and bars, including The Oakroom, Kentucky's first and only AAA Five-Diamond Restaurant.
Boston, Massachusetts, United States
As you pass through the sculpted bronze doors of this historic hotel, you are enveloped in the charm and timeless beauty that have made the Omni Parker House a Boston landmark since 1855.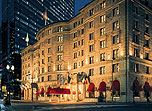 Boston, Massachusetts, United States
The Fairmont Copley Plaza, Boston has been a landmark in Boston's historic Back Bay since 1912. Constructed on the original site of Boston's Museum of Fine Arts, the hotel derives its name from the great American painter John Singleton Copley (1738-1774). The hotel's architect, Henry Janeway Hardenbergh, combined French and Venetian Renaissance influences on the building's facade.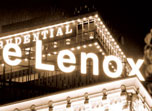 Boston, Massachusetts, United States
As much a Boston landmark as Fenway Park or Faneuil Hall, the handsome Italianate structure in Copley Square famously known as the Lenox was built in 1900 in just eight months at a cost of $1.1 million -- one of the first hotels constructed in Boston's Back Bay.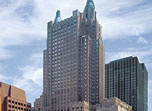 New York, New York, United States
For more than a century, The Waldorf - Astoria Hotel has combined luxury with a wealth of amenities and services. This 42-story Art-Deco hotel, located in mid-town Manhattan, beckons New Yorkers and visitors alike.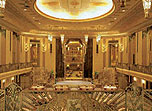 Cincinnati, Ohio, United States
The Hilton Cincinnati Netherland Plaza is a true French Art Deco masterpiece. Opened in 1931, the hotel was an integral part of the first multi-use complex in the United States. Described as a "city within a city," the complex featured an office tower, hotel, fully automated garage, shopping complex and restaurants. Today, the hotel is the city's crown jewel.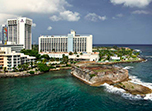 San Juan, Puerto Rico, United States
From the alluring island of Puerto Rico and the vibrant city of San Juan, the Caribe Hilton is a AAA Four Diamond award-winning beach resort where ordinary ceases to exist and paradise never ends. Featuring a secluded beach, oceanfront swimming pools, nine restaurants, a full-service spa, and 65,000 sq ft of meeting space, the historic Caribe Hilton boasts the ultimate Caribbean experience.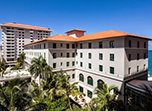 San Juan, Puerto Rico, United States
Since its inception in 1919, the historic Condado Vanderbilt Hotel has catered to sophisticated San Juan travelers who place one aspiration above all else – to pursue a lifestyle of five-star luxury and leisure within some of the world's most exclusive destinations. Discover Puerto Rico as it is meant to be experienced at the Condado Vanderbilt Hotel where exacting service, luxury accommodations, exquisite amenities, and fine dining are a hallmark of every stay.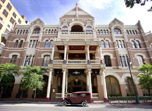 Austin, Texas, United States
The claim that everything's bigger in Texas shouldn't merely be taken literally. Witness the Driskill, Texas' premier luxury hotel positioned in the heart of the state capital.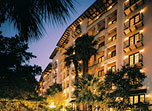 San Antonio, Texas, United States
Ideally nestled along the historic River Walk in downtown San Antonio, the Omni La Mansión del Rio is where history comes alive. The Texas Historical Commission and the San Antonio Conservation Society have designated Omni La Mansión del Rio as a historical treasure. The historic hotel includes 338 comfortably appointed guest rooms and suites, the award-winning Las Canarias restaurant and its Texas Hill Country-infused menu, flexible meeting and event space and unparalleled service standards.
Famous Food Created
Your search returned 14 results.