While civilizations have come and gone, various members of Historic Hotels Worldwide believe that paranormal guests have remained. Dating from the Medieval period, many historic hotels and castles are rumored to have resident ghosts, providing a mysterious and memorable stay.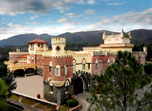 Valle Hermoso (Cordoba), Argentina
El Castillo is a family owned, eco-sustainable 5-star hotel/training center, built following a 3-year refurbishment of a 19th century castle.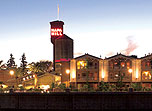 Napa, California, United States
Nestled into the heart of Napa Valley, the Napa River Inn stands out as an upscale boutique hotel offering traditional comfort, convenience, and personal service to both leisure and business travelers. Surrounded by the valley's world-renowned vineyards, beautiful scenery, excellent restaurants, and favorable climate, the inn sits snugly along the banks of the Napa River on 2.5 riverfront acres.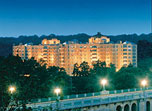 Washington, District of Columbia, United States
A true Washington institution, the Omni Shoreham has hosted inaugural balls for every president from FDR to Bill Clinton. To celebrate its ties to America's highest office, the hotel's nine presidential suites each bear the name of one of our great leaders. (Guests who express strong feelings may request to have the name plate on their suite changed.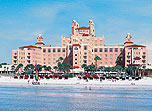 St. Pete Beach, Florida, United States
There's no mistaking the Don CeSar. Instantly known as Florida's Pink Castle when it opened back in 1928, this ten-story hotel sits on the sugary sands of St. Pete Beach, an island in the Gulf of Mexico.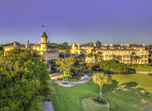 Jekyll Island, Georgia, United States
Nestled amid live oak trees draped in Spanish moss, this Victorian landmark enjoys a setting of unspoiled natural beauty on Jekyll Island. The island is protected from extensive development by the state of Georgia and has miles of beaches and forest waiting to be explored.  Here, millionaires wintered in scenic seclusion for decades, enjoying many amenities and privileges.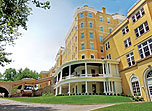 French Lick, Indiana, United States
Through detailed renovation, restoration and an extreme passion for refurbishing the past, French Lick Resort Casino, established in 1845, has re-opened its doors and returned to its original charm and grandeur. For over two centuries the Pluto Mineral Springs and its medicinal waters have drawn visitors to French Lick and our legendary resort.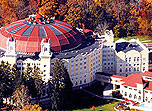 West Baden Springs, Indiana, United States
An architectural marvel, West Baden Springs Hotel is the crown jewel of French Lick Resort's $500 million restoration. The turn-of-the century National Historic Landmark offers 246 exquisitely appointed rooms, a world-class spa, championship golf, and a wide array of dining and entertainment options.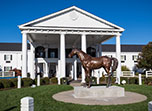 Lexington, Kentucky, United States
Upon entering the two-story lobby, guests are surrounded by breathtaking architecture, timeless beauty, and old world charm. The Campbell House Curio, A Collection by Hilton, welcomes visitors to a destination where rich history, exceptional service, modern luxury, and classic elegance exist in perfect harmony.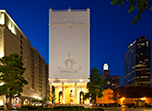 New Orleans, Louisiana, United States
Le Pavillon Hotel embraces the true history of one of the nation's most memorable, distinct cities. The historic hotel in New Orleans sits on the site of one of the city's first great plantation homes. When this first-generation skyscraper opened in 1907, Le Pavillon Hotel became an instant signature in the historic heart of the Big Easy.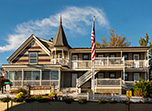 Provincetown, Massachusetts, United States
At the tip of Cape Cod's distinctive tip sits the eclectic village of Provincetown, home to the magnificent Crowne Pointe Historic Inn, where luxury meets history. Originally established a bustling seaport, Provincetown was once inhabited by a rowdy mix of smugglers, outlaws and raucous mariners. Today, the Crowne Pointe Historic Inn boasts charming accommodations, unrivaled service, and a unique historic experience.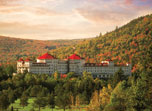 Bretton Woods, New Hampshire, United States
Mount Washington Resort was the creation of industrialist Joseph Stickney, who built The Mount Washington Hotel in 1902.  The sparking white and red-roofed Spanish Renaissance-style hotel, with its grand, colonnaded veranda, was the setting for the historic Bretton Woods Monetary Conference in 1944.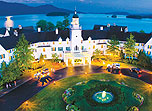 Bolton Landing, New York, United States
Situated in the unspoiled Adirondack Mountains, The Sagamore opened in 1883 and was a social center for the wealthy visiting Lake George. After closing in 1981, the hotel was reopened a few years later and restored to its original grandeur. Today the resort offers a wealth of recreational and dining opportunities for guests who enjoy "roughing it" with an elegance in the woods.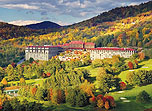 Asheville, North Carolina, United States
The Omni Grove Park Inn is one of the South's best-loved resorts. Built in 1913 with granite stones mined from Sunset Mountain, the resort overlooks the city of Asheville, N.C., and provides majestic views of the Blue Ridge Mountains. With its distinctive undulating red clay tile roof and original Roycroft furnishings and fixtures, The Grove Park Inn captures the essence of the Arts and Crafts movement.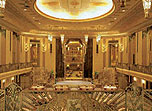 Cincinnati, Ohio, United States
The Hilton Cincinnati Netherland Plaza is a true French Art Deco masterpiece. Opened in 1931, the hotel was an integral part of the first multi-use complex in the United States. Described as a "city within a city," the complex featured an office tower, hotel, fully automated garage, shopping complex and restaurants. Today, the hotel is the city's crown jewel.
Memphis, Tennessee, United States
Historian David Cohn once wrote, "The Mississippi Delta begins in the lobby of The Peabody Hotel… If you stand near its fountain in the middle of the lobby… ultimately you will see everybody who is anybody in the Delta…" Truly, in the minds of many, The Peabody is Memphis.
Haunted Hotels
Your search returned 15 results.