Historic spa resorts offer an array of spa packages that highlight the finest qualities of each coveted destination.
The Landmark London
London, United Kingdom
A Pampering Escape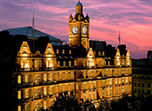 Lean back, relax, and enjoy "A Pampering Escape" at The Landmark London Spa & Health Club. Check into a guestrooms and choose from: Aromatic massage, Prescriptive Ticket Facial, Pure Vitamin C Envelopment, or Marine Works Body Wrap.
There are no special offers currently available.
Spa Packages
Your search returned 0 results.