Devi Garh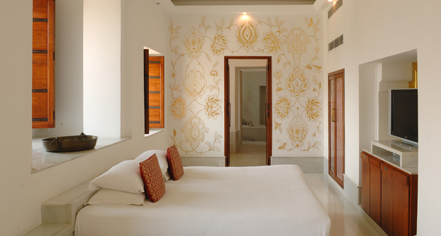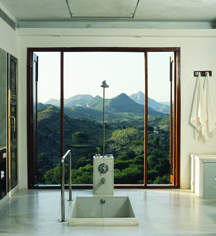 Accommodations
With some offering private lobbies, and others have tented terrace balconies or large bay windows letting in the Indian sun, Devi Garh's 39 opulent suites offer majestic luxury, each equipped with individual features and modern amenties making each guest's stay comfortable, personalized, and unique. All the guestrooms have brilliant views, telvisions, bath amenities from Forest Essentials, minibar, and tea and coffee makers. Suites are adorned with marble and semi-precious stones, while the public spaces are designed around different metals.
Garden Suite
Featuring private lobbies, garden and tented terraces overlooking a vivid field of flowers and village, the 17 Garden Suites at Devi Garh invite the serenity and beauty of botantical offerings including a carved marble tree of life that is adorned above the headboard of the bed completeing the garden theme.
Palace Suite
Individually designed gems - literally, using semi-precious stone inlay within the decor, the 16 Palace Suites lends an ambiance of decadance and luxury using marble combined with baubles, such as malachite, mother of pearl, jasper and lapis lazuli throughout the pristine white walls and fittings that are reflected in the white terrazzo flooring offsetting the rich colors of Rajasthan. All of the Palace Suites are accessible through a traditional yet moderinzed 'aangan' courtyard and offer balconies or expansive windows with views soaring the lush green fields and Aaravali hills that surround Devi Garh.
Aravali Suites
Designed with a traditional Indian lotus motif in mind, the 5 Aravali Suites are the most spacious and bright offering complete privacy with wide-ranging views of the Aravali hills, Delwara village, and spectacular black marble courtyard featuring a symbolized lotus in a modern water fountain enjoyed from balconies or large bay windows. The ancient patterns and paintings in the loft-like space, including flooring, represents the historic emphasis of the property.
Devi Garh Suite and Palace Suite
Housed together in The Devi Garh Complex and a black marble swimming pool, the Devi Garh Suite and Palace Suite are available together or individually. The larger, Devi Garh Presidential Suite is adorned in rich golden shades offering its own private sun deck, Jacuzzi, and private lounge and dining space.
Exploring the concepts of Shiv and Shakti – the male and female energies, embodied in Shiva, the Hindu God of destruction in conjunction with Shakti, his consort, who personifies the divine power of femininity, the Devi Garh Suite Complex emphasizes the time-tested belief of a well-balanced mind, body, and spirit. Guests of the Devi Garh Suite can induldge in the fresh fruit platter, molded chocolate plate, complimentary bottle of wine, and bulter on request upon arrival.
Devi Garh, a charter member of Historic Hotels Worldwide since 2011, dates back to 1760.