Dromoland Castle Hotel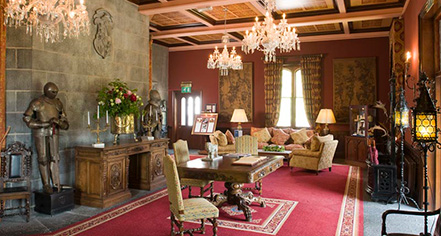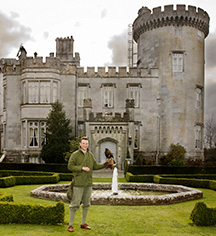 History
Dromoland Castle is one of the most famous baronial castles in Ireland. It was the ancestral home of the O'Briens, Barons of Inchiquin, one of the few native Gaelic families of royal blood. They are direct descendants of Brian Boroimhe (Boru), High King of Ireland in the 11th century, renowned for his defeat of the Danes in 1014. Originally a defensive stronghold, the structure was rebuilt in the 16th century around the time that the Chief of the Clan O'Brien was forced to surrender his royalty to King Henry VIII and thus be demoted to Baron of Inchiquin and First Earl of Thomond.
The present main building was rebuilt in the early 19th century. It was the birthplace and boyhood home of William Smith O'Brien, M.P., who fought for the rights of oppressed Irish Catholic peasant farmers and led the Young Irelanders rebellion against the British authorities in 1848. After the forced sale of the estate's tenanted farmlands in 1921, the leaders of the Irish Republican Army in Dublin marked Dromoland Castle for destruction. Local IRA leaders succeeded in reversing that decision, arguing that the Inchiquin lords had been fair and benevolent landlords to their tenant farmers. For more than 10 years, Dromoland was supported mainly by the personal wealth of the fifteenth baron's widow, whose portrait hangs near the staircase in the Castle's hall.
The sixteenth Baron of Inchiquin finally sold the Castle and surrounding land to an American industrialist, Mr. Bernard McDonough, in 1962. (Conor O'Brien, the eighteenth Baron, continues to live in adjacent Thomond House, a Georgian-style structure built in 1962, and still farms and operates part of the demesne as a sporting and leisure estate.) The Castle and The Queen Anne Court underwent major renovations in 1962 and 1963 and emerged as a luxury hotel, one that remarkably retains its stately, warm, and cheerful baronial country house atmosphere.
Dromoland Castle Hotel, a charter member of Historic Hotels Worldwide since 2011, dates back to 1014.