Grand Hotel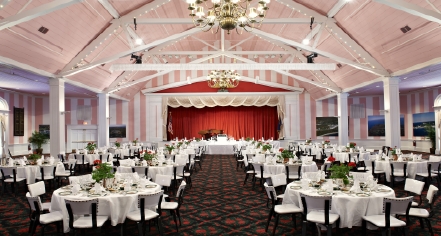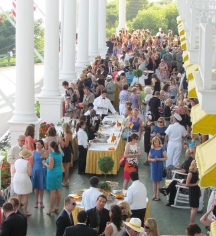 Meetings & Groups
At Grand Hotel on Mackinac Island, Michigan guests will enjoy the charm and elegance of the Victorian era with the modern amenities important to travelers today. With 386 uniquely decorated guestrooms and over 22,000 square feet of meeting space all under one roof; America's Summer Place is the perfect destination for groups of all sizes. A personal convention manager is assigned to every group to make sure all the details are taken care of and attendees have an unforgettable experience.
The Grand Hotel offers a variety of rate plans to meet your needs. Regardless of the plan you choose, Grand Hotel is very pleased to provide added value benefits for your meeting or event:
No penalty for guestroom attrition
Complimentary meeting and function space
Complimentary wireless internet
Complimentary use of audio-visual equipment from our extensive in-house inventory
Complimentary coffee, iced tea and lemonade for your meetings
Complimentary music with your private dinner, if desired
Free wireless Internet access is available throughout the hotel and resort grounds.
Group Value Dates
2015
May 5-9, 18-20, 29-31
June 1-6, 21-23
Click here to submit a request for proposal.
| Woodfill Conference Center | Area (ft2) | Size (ft) | Theater | Class | Sq. | Banq | Reception |
| --- | --- | --- | --- | --- | --- | --- | --- |
| Theater | 7080 | 88.5 x 80 | 1000 | 325 | 80 | 500 | 750 |
| Gerald R. Ford Conference Room | 529 | 23 x 23 | 50 | 16 | 16 | | 50 |
| Terrace Room | 3145 | 74 x 42.5 | 350 | 120 | 52 | 225 | 350 |
| Headquarters of The Capitol Club | 900 | 40 x 22.5 | 100 | 48 | 24 | | 100 |
| Straits of Mackinac | 621 | 27 x 23 | 50 | 24 | 18 | | 50 |
| Brighton Pavilion | 3145 | 74 x 42.5 | 350 | 120 | 52 | | 350 |
Other Meeting Rooms
Area (ft2)
Size (ft)
Theater
Class
Sq.
Banq
Reception
Grand Pavilion
3604
53 x 68
375
150
70
200
450
Cottage Restaurant
1207
71 x 17
120
50
40
80
100
Pontiac Room
682
31 x 22
20
36
50
Main Dining Room
202 x 45
1500
The Honorable Frank J. Kelley Conference Room
768
32 x 24
Permanent Table Setting for 14
Museum Meeting Room
504
24.5 x 20.5
40
16
24
50
Prosecutor's Heritage Hall
430
20.5 x 20
40
12
12
20
30
Garden Terrace
50 x 17
100
West Front Porch
300' long
500
East Front Porch
300' long
50
500
| Off-Site Dining | Area (ft2) | Size (ft) | Theater | Class | Sq. | Banq | Reception |
| --- | --- | --- | --- | --- | --- | --- | --- |
| The Club Room at The Gate House | 407 | 36.25 x 11.25 | | | | 30 | 30 |
| The Gazebo at The Gate | 702 | 26.5 x 26.5 | | | | 50 | 75 |
| The Chalet at Woods | 728 | 39 x 18.67 | | | | 60 | 80 |