Hilton New York Grand Central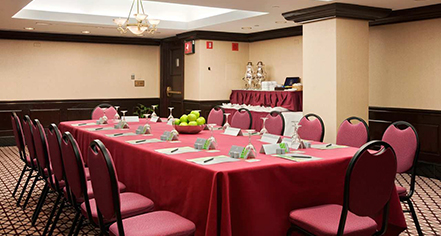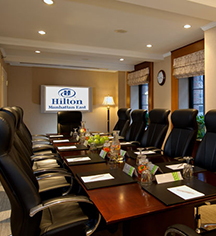 Venues & Services
The Hilton New York Grand Central offers a total of 3,500 sq ft of flexible meeting and banquet facilities, accommodating up to 150 guests in a reception setting. The comprehensive conference packages have been designed to make things simpler for the planner, as well as provide value and the best service for guests and visitors. The flexible selection of elegant rooms make the Hilton New York Grand Central at the United Nations premier Manhattan hotel meeting space.
Venues
Located on the lower lobby, Knightsbridge is the hotel's largest function room offering a warm, contemporary atmosphere. The room can also be divided into two rooms for flexibility of space.
A stylish function room located in the lower lobby, Kensington provides the perfect surroundings for any meeting or banquet setup.
Two thoughtfully-appointed Executive Boardrooms offer permanent board tables and executive chairs for up to ten VIPs.
Carroll Room, situated in the South Tower of the hotel, is an attractive function room providing amenities and accents that are perfect for a small VIP meeting or intimate reception.
Capacity Chart
| | | | | | | | | | | |
| --- | --- | --- | --- | --- | --- | --- | --- | --- | --- | --- |
| Boardroom | 312 | 12' x 26' | 9' | | | | | 16 | | |
| Carroll Room | 456 | 19' x 24' | 8' | 16 | 30 | 20 | 30 | 20 | 16 | 18 |
| Kensington Room | 680 | 20' x 34' | 8' | 30 | 50 | 40 | 50 | 24 | 24 | |
| Knightsbridge Room | 1,550 | 31' x 50' | 8' | 65 | 95 | 90 | 150 | 22 | 25 | 20 |
| Knightsbridge 1 | 841 | 29' x 29' | 8' | 32 | 40 | 40 | 40 | 12 | 22 | 10 |
| Knightsbridge 2 | 798 | 29' x 38' | 8' | 24 | 40 | 40 | 40 | 12 | 22 | 10 |
| Knightsbridge 3 | 273 | 21' x 13' | 8' | 8 | 15 | 10 | 20 | 10 | | |
| Regency Boardroom | 208 | 16' x 13' | 14' | | | | | 8 | | |