Hilton New York Grand Central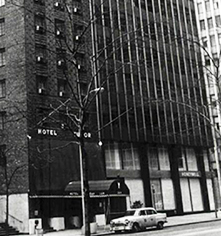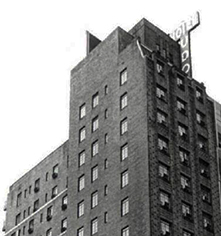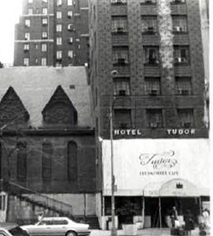 History
In the 1920s, when Manhattan's cobblestone streets were cruised with Model T Fords, real estate developer Fred F. French began drawing up plans to create what became Tudor City, the world's first residential skyscraper complex. By 1931, Hotel Tudor opened as part of the new neighborhood development, that included parks, tulip gardens, and golf courses. All of which can still be frequented except for the golf course.
With its recessed entrance on the north side boasting glazed tiles and the original casement windows, Hotel Tudor was the only Tudor City building that was erected as a transient hotel. It was originally built as a 20-story building with 600 rooms. Today, the hotel boast 300 rooms, some of which have access to private roof terraces with spectacular views of New York City. The guest halls and lobby are well-decorated with classic black-and-white photos hastening guests back to "Old" New York when the 55 year veteran Bell Captain Bobby Carol welcomed the world's visitors to the Hotel Tudor.
Located just east of Grand Central Terminal, built in 1913 and recently renovated back to its original splendor, the Hilton New York Grand Central is renowned for its Neo-Gothic architecture and landmark crossword-style Hotel Tudor rooftop sign. The property resides next door to the historic Presbyterian Church of the Covenant, designed by J.C. Cady. Cady later gained prominence as the architect of such significant commissions as the Metropolitan Opera House and the Romanesque wing of the American Museum of Natural History. With its convenient location within two blocks of the famed United Nations building complex, the hotel has been frequented by the famous and infamous since its inception. The hotel has served as home away from home for visiting diplomats since its creation and commencement of the annual General Assembly since 1952. Outside of the numerous diplomats and political notoriety, the Hilton New York Grand Central is rumored to have accommodated the likes of J. Edgar Hoover, pianist Lady Beatrice, and local restaurateur legend "Slim Carol."

Hilton New York Grand Central, a member of Historic Hotels of America since 2014, dates back to 1931.