Kempinski Hotel Cathedral Square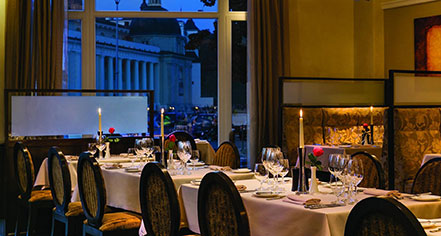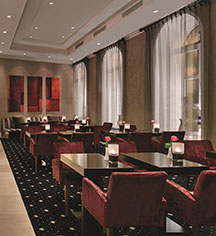 Dining
Restaurant Telegrafas
In the center of Vilnius Old Town, Restaurant Telegrafas is the place for those seeking an elegant dining atmosphere with incredible European gastronomy. The restaurant offers a subtle balance between history and modernity, with a relaxed atmosphere overlooking the picturesque Vilnius Cathedral Square. The cuisine is characterized by a combination of European cooking, veering from East to West, with Mediterranean touches. Here, purity and simplicity are complemented with refinement and surprising combinations. Dishes are always made with special attention to freshness and seasonal ingredients. Restaurant Telegrafas plays an instrumental role in modernizing traditional Lithuanian cuisine. As a result, guests can expect innovative menus, influenced from specialties both local and from around the world. Restaurant Telegrafas is among the best restaurants in Vilnius, offering its guests a unique ambience and exceptional, unobtrusive, knowledgeable, and extremely attentive Kempinski service.
Le Salon Bar and Lounge
Inspired by the social and artistic milieu of fin de siècle Europe, the elegant and stylish Le Salon Bar and Lounge is all about champagne, the finest selection of cocktails, and a laid-back atmosphere. Set in a historic building dating back to the 20th century and restored to its former glory, it is an ideal meeting place in Vilnius to enjoy playful elegance and a relaxed setting. Le Salon Bar and Lounge comprises the concept of a lounge, while incorporating the lobby and the bar. At night, Le Salon Bar and Lounge turns into a stylish venue to enjoy signature tapas dishes, wines, champagnes, and bespoke cocktails.
The Terrace
Kempinski Hotel Cathedral Square offers a great retreat at the terrace just outside of the hotel. The 35-seat heated terrace in Vilnius Old Town is a great venue for those seeking to soak in beautiful weather while tasting a world-class selection of fine wines, champagnes, and cocktails. The comfy heated terrace is perfect for pampering with culinary highlights created by the experienced Kempinski chefs. The terrace is open from noon daily for drinks and outdoor dining with a large variety of dishes from the Le Salon Bar and Lounge menu. For an extended culinary experience, the terrace features both the a la carte menu of Restaurant Telegrafas and the Le Salon Bar and Lounge in the evening until 1:00 a.m. Enjoy a great luxury experience, attentive service, and an inviting ambience in Vilnius Old Town, just a few steps outside of Kempinski Hotel Cathedral Square.
Atelier Wine Boutique & Tasting Bar
With very special individual service and a spectacular selection of more than 240 wine labels, Wine Boutique & Tasting Bar awaits you in the lobby of Kempinski Hotel Cathedral Square. The extensively knowledgeable shopkeeper, the best sommelier in the Baltic countries, Mr. Martynas Pravilonis, will navigate you through the journey of tastes by selecting the best picks. You are welcome to relax and enjoy the contemporary atmosphere, combined with refined choices of wine and international snacks.