Knutholmen Hotell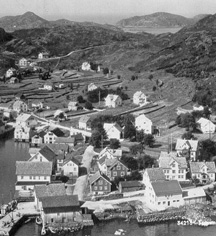 History
Comprised of a string of several historic buildings, Knutholmen Hotell represents the dynamic heritage of Kalvag, Norway. In the 1860s, Kalvag was one of the most popular fishing villages, attracting over 11,000 visitors during the high-season.
By 1871, the village celebrated its most successful season, housing 52 salting mills, boasting a total of 35,340 barrels. For almost a century, Kalvag experienced a steady stream of business, until the 1960s, when the industry experienced a decline as a result of the over-fishing of herring. Today, Kalvag remains a leader in the fishing industry, using ethical practices.
The charming complex that make up the hotel today once served as a marketplace, featuring a salting shop, bakery, guesthouses, and other businesses, illustrating its significance role of the village's past.
Knutholmen Hotell, a charter member of Historic Hotels Worldwide since 2013, dates back to 1860.