Mansion Merida On the Park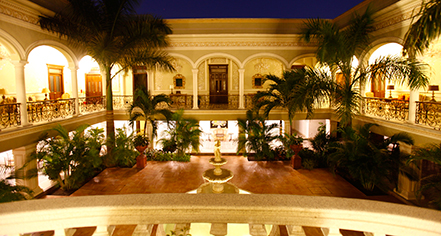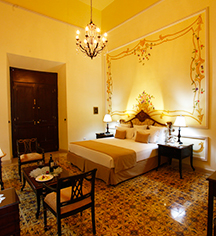 History
Dating back to 1644, Mansión Mérida was the first two story home on the Peninsula of Yucatan and was owned by famed Governor Rodrigo Flores de Aldana. During the early twentieth century, the stunning mansion became a project for Yeoman Don Felipe G. Canton Pachon, adding new elements to the building as it is today. Following his death, the mansion was closed by Don Felipe's wife and eventually rented out as the location for "The Union", a popular social club in the heart of Yucatan. The people of high society would dress to the nines and dance as a talented Yucatecan orchestra played beautiful music.
The current owner's mother inherited the property, who left the stunning mansion to her son, Don Raul Casares G Canton. As the current owner, he has invested in recovering the historical building and restoring the magical splendor of its rich past. Now a memorial to Don Raul's grandparents and his own childhood memories. Between maintaining the original architectural details, involving local artists to paint masterpieces in this Yucatan hotel, and hiring the top engineers to fulfill this vision, Mansión Mérida has been converted into a luxury boutique hotel after five years of hard work.

Mansión Mérida On The Park, a member of Historic Hotels Worldwide since 2015, dates back to 1644.