NH Collection Amsterdam Doelen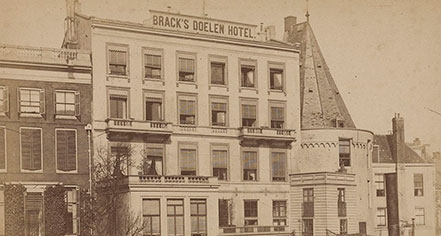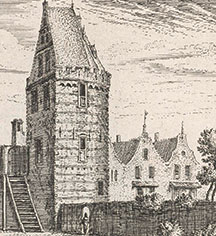 History
Steeped in history, with part of the original medieval city wall still visible inside the hotel, the NH Collection Amsterdam Doelen is set on the beautiful Amstel River and enjoys the reputation of being one of Amsterdam's grande dames.
Dating from the 15th century, NH Collection Amsterdam Doelen's building is the oldest existing hotel in Amsterdam. Situated at the banks of the Amstel River and right in the city center, the hotel has a very rich and inspiring history. In 1642, the civic guards assigned Rembrandt van Rijn to produce a painting meant to be exhibited in the building. This painting was later called The Night Watch and became one of the most famous paintings in the world. The hotel features a Rembrandt Suite, which is actually located right on the spot where The Night Watch used to hang on the wall. Another famous and returning guest was Empress Elisabeth of Austria (1837-1898), better known as Empress Sisi. On June 6, 1964, The Beatles gave their one and only performance ever in the Netherlands. They stayed at the hotel and the images of their boat trip through the canals and the thousands of cheering fans at the canal sides were broadcasted all over the world.
The Swych Utrect tower was built in 1481 as part of the complete defense wall that protected the city of Amsterdam. The tower was used as a military training space, or a "doelen", for the Kloveniers, who were civic militia guards. The most famous company of Kloveniers were under the command of Captain Frans Banning Cocq. Captain Cocq commissioned Rembrandt to create a piece of artwork that would commemorate the victories of his company, resulting in The Night Watch. Rembrandt was paid 1,600 guilder for the painting, a record sum in its day. Upon completion, the artwork was hung in the Groote Zaal, or Great Hall of the Kloveniersdoelen. Some artifacts from the Klovenierdoelen are still in the hotel, on the first floor in front of Room 105.
By the 17th century, the structure had been transformed into City Hall. Used for hosting official guests, large banquets and engagements were held in the Great Hall.
The building of the hotel began in 1819. First designed for use in the world exhibition in 1883, owner and architect J.F. van Hamerswveld was asked to change the plans and instead repurpose it as a hotel. Its first renovations occurred in 1900. Over its illustrious history, the hotel has hosted such esteemed guests as actresses Sarah Bernhardt and Lillie Langtry; royal icons Empress Elisabeth of Austria, and the majestic Queen Victoria herself graced the hotel with their presence while they toured the country.
NH Collection Amsterdam Doelen, a member of Historic Hotels Worldwide since 2017, dates back to the 1815.