NH Collection Venice Palazzo Barocci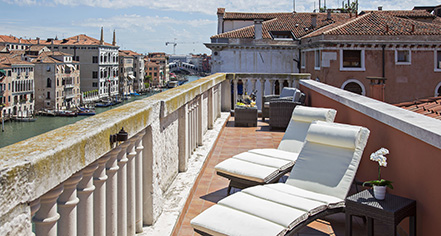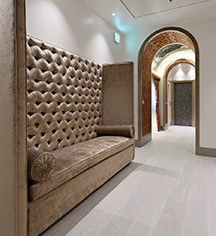 History
Located in a former Venetian palace is the NH Collection Venice Palazzo Barocci. The enviable location overlooking the Grand Canal and the Rialto Bridge was chosen as the locale for a private residence built in 1890, but the location had previously come to fame as a theater.
During the height of the opera craze in Venice in the mid-17th century, several major theaters were constructed. The Teatro San Angelo, itself built on the ruins of former private palazzos, was completed in 1676 by Francesco Santorini and opened in 1677, staging a performance of Helena rapita da Paride. Vivaldi came to great acclaim in this theater, beginning in 1715 to showcase his many operas to the increasingly popular and lower-class audiences. By the end of the 18th century, Casanova himself was in opposition to the Teatro as its popularity declined with the masses and the artistic quality had vastly decreased. The theater closed in 1803 and was eventually demolished to give way for the Barocci Palazzo.
In time, the need for such massive private homes fell away and the once private palazzo was converted into the NH Collection Venice Palazzo Barocci of today.
NH Collection Venice Palazzo Barocci, a member of Historic Hotels Worldwide since 2017, dates back to 1890.