Quinta Real Puebla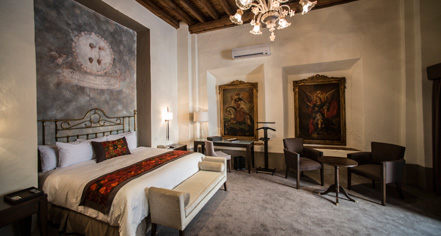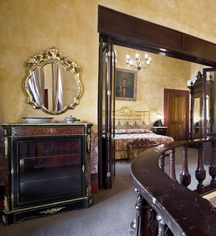 Accommodations
Evoking a 16th century Spanish Colonial era aesthetic, the extravagant 84 guestrooms and suites of Quinta Real Puebla celebrate its heritage with thoughtfully appointed furnishings, including textiles, intricate woodwork, period art, and antiques, creating a harmonious blend of the Old World and modern luxury.
Suites
For additional comfort, the spacious suites at Quinta Real Puebla combine art and history with contemporary fixings. Suites include VIP service, a welcome fruit basket, exclusive bathroom amenities, robe, slippers, and a plate of sweets.
Chapel Suite
Initially the chapel of the convent, the Chapel Suite displays the restored original frescoes and antique art, including a large mural of the Sacred Heart of Jesus, exhibiting an authentic Viceroy era experience. The Chapel Suite is situated in the south central area of the courtyard and features a relaxing private terrace.
Master Suite
Situated on the fourth floor, the apartment-style Master Suite has a luxurious bedroom, bath with Jacuzzi, and a separate large living area. The Master Suite opens onto a wide terrace with a spectacular view of Iglesia de la Concordia dome.
Presidential Suite
Originally the parochial hall connecting the novices with the abbesses, the Presidential Suite is a brilliant two-level space distinguished with gold-plated furniture, elaborate fabrics, intricately carved woodwork, and period artwork. The Presidential Suite boasts a romantic living area and a grand staircase leading to the magnificent bedroom adorned with an antique lacquered closet and vanity transporting guests to a resplendent intimacy.
Quinta Real Puebla, a charter member of Historic Hotels Worldwide since 2013, dates back to 1593.
Guestroom amenities:
Satellite television
Kettle
Minibar
Wireless Internet access (for a fee)
Safe
Dataports
Alarm clock
Voicemail
Desk
Telephone
Hair dryer
Iron and board
Extra beds and cots are available by request