Rosewood London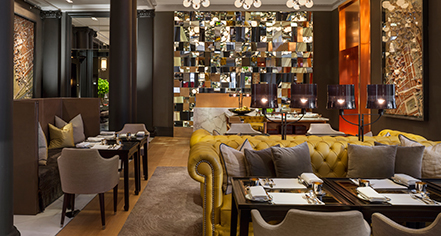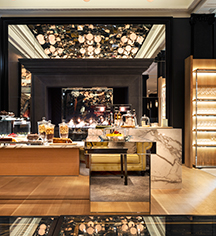 Mirror Room
A striking salon tucked away in the heart of Rosewood London, the Mirror Room is the social hub of the hotel, offering innovative, elegant dining, and traditional afternoon tea. A veritable jewel box of a dining room, with mirrors on the walls and ceiling, the tables are laid with exquisite Limoges china, sparkling crystal, and refined silverware. Whether meeting for a relaxed breakfast, light lunch, afternoon, tea or a decadent dinner, the Mirror Room is the place to see and be seen on High Holborn.
The meticulously crafted dishes include a seasonal array of delicacies, all freshly sourced and prepared whilst the friendly sommelier is always on hand to assist guests with wine pairings from a list focused on organic and biodynamic wines from both the Old World and the New.
Early afternoons, the Mirror Room takes the tradition of British tea to new heights, with a selection of mouth-watering sandwiches and loose leaf teas accompanied by contemporary creations and time-honored classics.
Every Sunday, the Mirror Room will be serving a weekly brunch in conjunction with Rosewood London's Slow Food & Living Market. Carefully curated by New Executive Chef, Amandine Chaignot, the menu will include ingredients which are in-season, sustainable, organic, local, and wholesome – all freshly sourced from the Slow Food & Living Market taking place every Sunday in the hotel's peaceful inner courtyard.
Hours
Continental Breakfast
Monday to Sunday: 7:00 AM - 10:30 AM
Lunch
Monday to Sunday: 12:00 PM - 2:30 PM
Express Business Lunch
Monday to Friday: 12:00 PM - 2:30 PM
Afternoon Tea
Monday to Sunday: 3:00 PM - 5:00 PM
Dinner
Monday to Sunday: 6:00 PM - 10:00 PM