St. Ermin's Hotel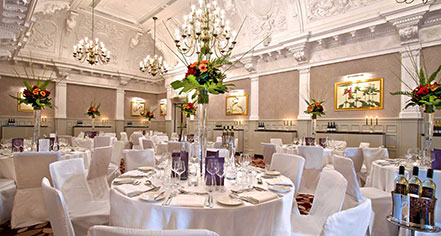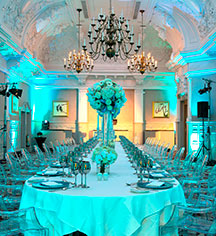 Weddings
A wedding celebration should be exceptionally one-of-a-kind, and the staff at St. Ermin's Hotel is prepared to create each couple's special day as uniquely that. With two wedding packages, Distinctly Special and Distinctly Deluxe, the hotel's attentive wedding specialists well ensure that each couples' needs are met for their most wondrous of days. With plentiful indoor and outdoor venue options, St. Ermin's Hotel offers spaces for large-scale, vibrant wedding celebrations alongside smaller event options for more intimate gatherings.
Available Venues:
Crystal Ballroom: St. Ermin's Hotel offers an event space that glamorously recalls a bygone era within the Crystal Ballroom, designed by noted theatre designer JB Briggs. With an opulent crystal chandelier, the Ballroom is expansive and welcomes up to 120 guests, and is flexible to interconnect with the Cloisters Suite and Crystal Mezzanine for additional function space.
Crystal Mezzanine: Opening into the Crystal Ballroom, the Crystal Mezzanine allows for two distinct spaces for a wedding celebration. The Crystal Mezzanine is a popular locale for elegant ceremonies, after which guests can meander into the Crystal Ballroom for a stunning reception. The Crystal Mezzanine can host wedding ceremonies for up to 80 guests, and dinners for up to 60 guests.
Cloisters Suite: With touches of ornate Rococo artistry, the 100-year-old Cloisters Suite is a mesmerizing event space, with vaulted ceilings and a historical charm. The Suite hosts wedding receptions of up to 120 guests, and also interconnects with the Crystal Ballroom to include added event space.
Additional Breakout Spaces: In addition to the property's traditional event venues, St. Ermin's Hotel also features several unique options for a wedding celebration. The lobby, featuring gorgeous architecture and a winding staircase, a tree-lined courtyard with an expansive terrace overlooking the lush scenery, the Lounge, the Library, Caxton Bar, and 331 rooms and suites await for a more unconventional wedding experience.