The Jefferson, Washington, DC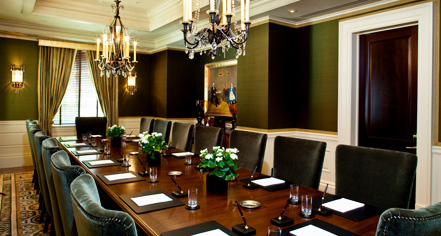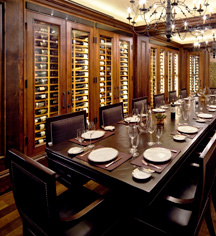 Meetings & Groups
Each uniquely designed based on distinct spaces at the beloved Monticello, meeting spaces at The Jefferson are intimate venues complemented by an attentive staff and state-of-the-art equipment, ensuring a successful and productive occasion.
Named after Jefferson's close friend and Secretary of the Treasury, Albert Gallatin, The Gallatin Room is the largest private function space, accommodating up to 80 standing guests and 46 seated. For smaller intimate groups, The Gallatin Room can be partitioned into the East and West Gallatin.
Ideal to host executive and high-level meetings, The Parlor Boardroom is furnished with elegant taper-like chandeliers, a grand wood polished table, and seating for up to 26 participants.
The Book Room was inspired by Thomas Jefferson's love of literature. Here, surrounded by leather-bound books on Jeffersonian subjects, guests can slip into this cozy, 500 square foot accommodating special receptions for up to 30 guests.
Lined with cabinets and private lockers stocked with an impressive collection of vintages, The Private Cellar is the hotel's intimate dining room inspired by Jefferson's love of wine.
The very intimate East and West Jefferson Cabinets are discreet spaces to accommodate 3 to 5 guests.
Event Space Chart:
| | | | | | | | | | |
| --- | --- | --- | --- | --- | --- | --- | --- | --- | --- |
| | | | | | | | | | |
| Gallatin Room | 689 | 47 x 15 x 12 ft | 30 | 60 | 44 | 80 | 46 | 30 | 32 |
| East Gallatin Room | 348 | 24 x 15 x 12 ft | 12 | 30 | 16 | 40 | 14 | - | - |
| West Gallatin Room | 326 | 23 x 15 x 12 ft | 12 | 30 | 16 | 40 | 14 | - | - |
| Parlor Boardroom | 496 | 29 x 17 x 12 ft | - | - | - | - | 26 | - | - |
| Private Cellar | 297 | 27 x 11 x 12 ft | - | - | - | - | 20 | - | - |
| Book Room | 500 | 26 x 17 x 10 | - | - | - | 34 | - | - | - |
| East Jefferson Cabinet | 117 | 13 x 9 x 8 ft | - | - | - | 4 | - | - | - |
| West Jefferson Cabinet | 180 | 12 x 15 x 8 ft | - | - | - | 6 | - | - | - |