The Royal Horseguards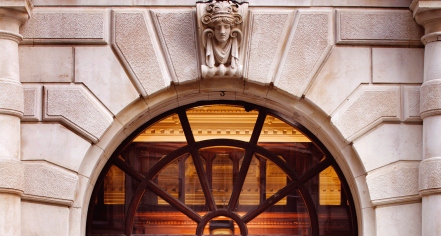 History
This fairytale hotel is a historic marriage of substance and style. The gracious French château styled façade of this 1884 gem has been preserved in all its glory, and its breathtaking interior reflects a thoroughly modern sensibility blended with bespoke hospitality. Rich colors and bold furniture strike a harmonious chord with the sweeping staircase and magnificent chandeliers. Surely, the beautiful location overlooking the River Thames and honored home on desirable Whitehall Place, give the property the appearance of a stately manor home designed for London's elite; the hotel's grand ambiance is further reflected in the enchanting details, authentic furnishings, and graceful appointments. Just steps away lay the City's most impressive landmarks, including Buckingham Palace, the Houses of Parliament, Covent Garden, and the mighty River Thames itself.

The Royal Horseguards began life as the National Liberal Club, offering its members a moment of tranquility from Westminster politics. This intricately created block of luxury residential apartments was designed by Alfred Waterhouse, whose architectural legacy in London includes the Natural History Museum. It has played the unrivaled host to some of Britain's greatest historical figures, including George Bernard Shaw, Lord Kitchener, Winston Churchill, and William Gladstone. In fact, the foundation stone in its cellars was laid by William Gladstone himself, one of five Club members who went on to serve as Prime Minister. The building was taken over by the Ministry of Defense during both World Wars and was used by the MI5 and MI6 secret intelligence organizations. The historic hotel continues to be used by politicians as a critical meeting place and was the needed venue for a prominent meeting last autumn between the Treasury and a number of British banks.

The Royal Horseguards has a grandeur and opulence to match its prestigious Whitehall address, and guests of this hotel's unique ambiance and splendor will truly find a rare sense of classic elegance and contemporary comfort.
The Royal Horseguards, a charter member of Historic Hotels Worldwide since 2011, dates back to 1884.