The Sagamore Resort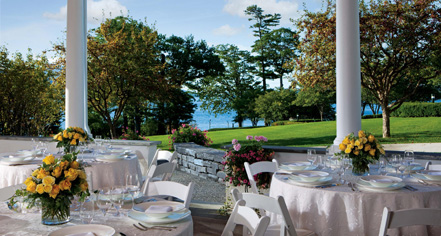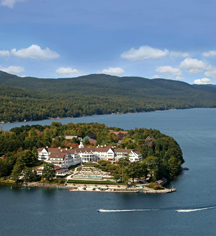 Meetings & Groups
The Sagamore Resort is excited to announce the complete refurbishment of the Conference Center, fully enhanced with new furniture, carpet, wallpaper, lighting and tile and rejuvenated it to a light, airy space perfect for meetings. Two new executive boardrooms, Crown and Dome, named after two of the prominent islands on Lake George, can accommodate 12-14 attendees and are centrally located in the Main Hotel.
Sixteen meeting rooms provide 31,000 square-feet of meeting space in three different locations: The Conference Center, The Bayview, and the Historic Hotel.
A dedicated state-of-the-art meeting facility, The Conference Center boasts a 10,080 square-foot ballroom with banquet seating for 800, as well as three 960 square-foot rooms which can accommodate up to 70 each classroom style.
Located just over the bridge, The Bayview is an Adirondack Style building offering panoramic windows and a lakeview porch area.
Within the Historic Hotel, six meeting rooms are available for events, including one 2,520 square-foot ballroom that can be divided, one 720 square-foot room, and a 650-square-foot space dedicated to the executive board rooms which can double as a hospitality room for a group.
The Shelving Rock Terrace and The Event Center offer additional space to accommodate meetings and events.
An elegant canopied venue, The Shelving Rock Terrace offers an exceptional setting during three seasons for special events and banquets for up to 175 people.
Opened in 2009, the 11,664 square-foot Event Center is the largest facility of its kind at a resort in The Adirondack State Park. A fully functional exhibit hall, The Event Center can accommodate 100 10x10 exhibit booths and large enough to exhibit automobiles and heavy equipment. The building has an easy access for bringing in vehicles for display.
Outdoor Venues
The resort also features over 20,000 square feet of versatile outdoor space including the Lower Veranda Terrace, the Pool Deck West, the newly renovated Dollar Terrace and the Front Lawn – all perfect weddings and socials events, including various size cocktail receptions and all featuring stunning views of Lake George. Another terrific outdoor space for groups is the Mountain View Lawn, which is near the Conference Center for easy access.
The Sagamore's professionally trained conference services managers oversee every aspect of meetings from beginning to end. In-house banquet facilities provide for a wide range of special dining options, such as catered events on one of many outdoor lakeside terraces or on the resort's own 85-foot replica of a turn of the century motoring vessel, The Morgan. The Morgan offers daily sightseeing cruises during its three seasons of operation, and can be used for private group dinner cruises on historic Lake George. In addition, The Sagamore has an in-house audiovisual company available to service meeting participants throughout their stay.