The Stafford London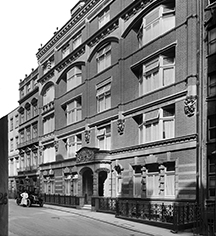 History
Numbers 16-18 St James's Place were originally used as private residences in the 17th century. Number 17, famously owned by Lord and Lady Lyttelton, remained in the Lyttelton family until 1849 when Lady Lyttelton, daughter of the then Earl Spencer, became the nanny to Queen Victoria's children.
In the years that followed, the house changed hands many times morphing from a personal residence to a club then a hotel. The Stafford Club, number 18 St James's Place, was added in 1886. Later, in 1912, the hotel was extended to include number 16 and The Stafford London was established.
During World War II, The Stafford London served as a club for both American and Canadian officers stationed in Europe who sought refuge in the wine cellars. This led to the formation of the exclusive Better 'Ole Club whose members were comprised of guests recognized for services above and beyond the call of duty to The Stafford; one of its most famous members is HRH Charles, Prince of Wales.
In 1947, the company Costain, overseen by Sir Richard Costain, purchased The Stafford. Forty years later, the property was sold to Trafalgar House, to supplement their ownership of the Ritz and Cunard Cruise Lines. Cunard oversaw the development of the noted Carriage House rooms in the late 1980s and positioned the hotel as a favorite with North American visitors.
Ten years after Trafalgar House acquired the property, the hotel was bought by Daniel Thwaites plc, a family-owned Lancashire brewery. Since then, the hotel has undergone extensive renovations and refurbishing, further enhancing its luxury amenities while maintaining its historic integrity.

The Stafford London, a charter member of Historic Hotels Worldwide since 2014, dates back to the 17th century.