The Stafford London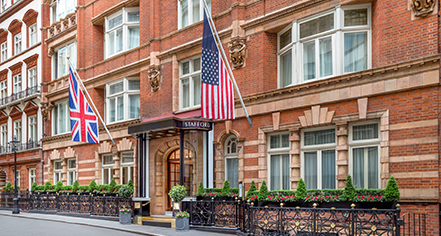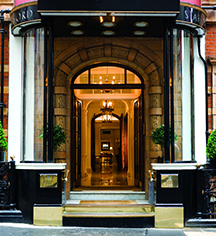 Local Attractions
One of the highlights of any European tour, London offers an exceptional blend of past and present. With its rich history, anyone with an interest in the historic side of London will have plenty to see and do. Likewise, anyone with an interest in current events will find many attractions that suit their interests.

Buckingham Palace
Buckingham Palace has served as the official London residence of Britain's sovereigns since 1837 and today is the administrative headquarters of the Monarch. Although in use for the many official events and receptions held by The Queen, the State Rooms at Buckingham Palace are open to visitors every year. Buckingham Palace has 775 rooms. These include 19 State rooms, 52 Royal and guest bedrooms, 188 staff bedrooms, 92 offices and 78 bathrooms. The Palace is very much a working building and the centrepiece of Britain's constitutional monarchy. It houses the offices of those who support the day-to-day activities and duties of The Queen and The Duke of Edinburgh and their immediate family.

St. James's Palace
St. James's Palace is the senior Palace of the Sovereign, with a long history as a Royal residence. As the home of several members of the Royal Family and their household offices, it is often in use for official functions and is not open to the public. St. James's Street is the principal street in the district of St James's, central London, England. It runs from Piccadilly downhill to St James's Palace and Pall Mall. The main gatehouse of the palace is at the southern end of the road, and in the 17th century Clarendon House faced down the street across Piccadilly, located where Albemarle Street is now situated.

West End
The West End of London (more commonly referred to as simply the West End) is an area of Central London containing many of the city's major tourist attractions, shops, businesses, government buildings and entertainment venues (including the commercial West End theatres). Lying to the west of the historic Roman and Mediaeval City of London, the West End was long favored by the rich elite as a place of residence because it was usually upwind of the smoke drifting from the crowded City. It was also close to the royal seat of power at Westminster, and is largely contained within the City of Westminster (one of the 32 London boroughs).

Fortnum & Mason
Fortnum's began in 1707, when royal footman William Fortnum set up shop in St James's with his landlord, Hugh Mason. Since then Fortnum & Mason has been an intrinsic part of the nation's history and has a fascinating story to tell.