The Stafford London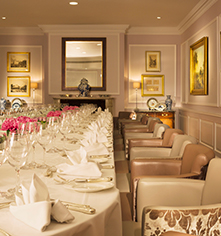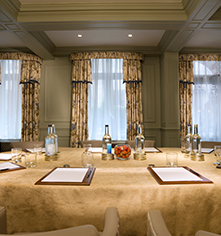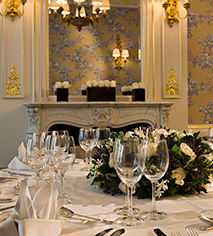 Meetings & Groups
With the combination of intimate venues, attentive staff, and fine food and drink, The Stafford is the perfect location for any event. Each of the five private dining rooms provide a unique setting in which the discreet staff will ensure each event is seamless.
Meeting and Event Venues at The Stafford London
Pink Room
The Pink Room, with its period style and abundance of natural light, is the perfect space for any small event. Interconnecting to the larger Argyll Room, the two venues provide the perfect combination for a reception followed by a private lunch or dinner.
Panel Room
Perfect as either a syndicate or reception room to the larger Sutherland Room, the warm mahogany panels around the fireplace in the Panel Room create the feel of a Gentleman's Club. Used on its own, the Panel Room provides the perfect setting for an intimate dinner or private meeting.
Argyll Room
Basking in a natural daylight, the Argyll Room has its very own features including an original Victorian fireplace, cornices, and panelling. Accommodating up to 12 guests for a seated lunch, dinner, or meeting, it is the perfect place for a business meeting or entertainment.
Sutherland Room
The versatile Sutherland Room always looks impressive—whether prepared for a high-level board meeting, set up for a lavish breakfast, or laid for an exclusive private dinner. It is fully air-conditioned and can accommodate up to 25 guests for a seated lunch, dinner, or 40 guests for a meeting (theatre style).
The Stafford Wine Cellars
The 17th century working Wine Cellars are a setting guaranteed to make a memorable event and can accommodate up to 44 guests for a seated lunch or dinner. Guests will be impressed by the sight of softly flickering candlelight dancing across the chambers, illuminating over 8,000 bottles of wines. The 380-year-old Wine Cellars are the ideal setting for entertaining guests and challenging taste buds with some of the finest wines from around the world. Make the wine tasting the main event of the evening or before a meal as an aperitif.