Villa Ganz Boutique Hotel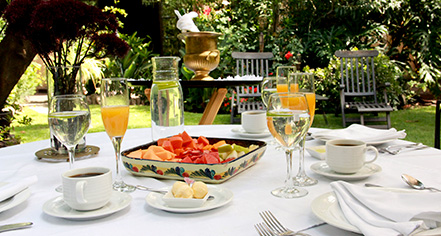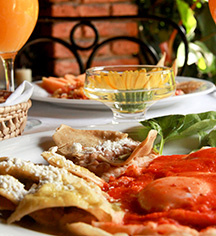 Dining
Exquisitely romantic gourmet meals are a specialty at Villa Ganz Boutique Hotel, created with care by the Chef, an expert in signature Mexican and fusion cuisine. The kitchen's basic menu is available 24 hours a day for in-room dining or in any area of the hotel. A delightful and delicious breakfast can be enjoyed on the terrace overlooking the lovely garden, where the natural morning light will serve as inspiration throughout the rest of the day.
Mexican cooking classes with the Chef are available. The culinary adventure begins with the design of the menu, followed by a trip to the local market to purchase the freshest ingredients. The dishes are prepared in the traditional manner by the guest, with the experience concluding by dining on their artfully prepared meal.
The honor bar, stocked with wine and local and imported liquor, is always available to guests. There are no specified hours and guests are free to enjoy beverages in the living area or the enchanting garden and fireplace.
The hotel is located in the culinary heart of Guadalajara and guests have the option to order meals delivered from nearby specialty restaurants.