Villa Ganz Boutique Hotel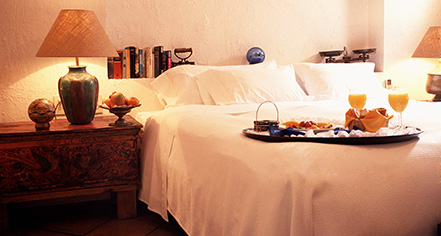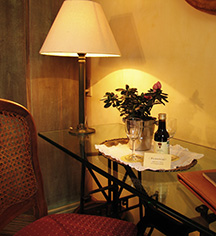 Grand Master Suites
Susana San Juan
The most sought-after and spacious suite in the hotel, the Susana San Juan is a favorite with couples looking for a romantic setting. Located on the second floor, the suite has large windows and a balcony that overlooks the garden. The exquisite vaulted Catalan ceiling affords a beautiful sense of spaciousness. The suite has a king-size bed, sitting area with comfortable armchairs and coffee table, a workstation, bookcase filled with interesting titles, a hammock for an afternoon siesta, and an armoire with a rotating television stand. The bath has a vaulted ceiling, a skylight dome for natural lighting, and large tub.
Susana San Juan is the central figure in Pedro Páramo's story and also the love of his life. She is his childhood sweetheart, and his heart has belonged to her since the beginning. Susana leaves Comala with her family and becomes Pedro's idealized love.
Doloritas
Doloritas is the most private suite, located on the top floor with direct access via a stairway that leads to an intimate terrace. The terrace has a large window overlooking the garden and the exuberant vegetation, a perfect place for a morning coffee or an evening drink, comfortably seated on the sofa or armchair. The suite has a bookcase, small desk, hammock for an afternoon siesta, and offers views of the street and the interior of the villa. The bath has a window for natural lighting, an ample bathtub, traditional shower, and a cold-water showerhead.
Doloritas is Pedro Páramo's spouse and mother to Juan Preciado. Her personal innocence and material riches were the stepping-stones for Pedro to become a landowner. Dolores could not stand her marital situation for very long and left to live with her sister in the city, never to return.
Pedro Páramo
One of the largest suites, this is a favorite among executives for its separate workspace. The suite is located on the second floor, has two semi-independent spaces, and can comfortably sleep three guests. It has a double-sized sofa bed, an executive desk near the two windows, two armchairs with a coffee table, and a balcony overlooking the garden. The bath has a two-person Jacuzzi and a window that lets in natural light.
Pedro Páramo is the main protagonist of the novel. He is eternally in love with Susana San Juan, and is a man whose soul is scarred by the events of his life. Deep down inside, he seeks happiness, no matter what the price.