Ananda in the Himalayas
Rishikesh, India
Yoga Package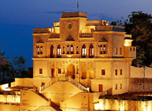 Rediscover yourself through the ancient discipline of Yoga, which encompasses all aspects of life in order to balance the mind, body and spirit. Ananda Yoga enhances the physical, mental, emotional and spiritual qualities in a simple, effective and practical manner.
$600 per night - Single occupany, minimum stay for this package is 5 nights.
There are no special offers currently available.