Hotel Union Øye
Norangsfjorden, Norway
Romance In Historical Surroundings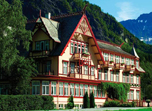 Overnight stay at Hotel Union Øye with champagne at the room, 3-courses dinner in the evening and breakfast the morning after.
Policies: Please cancel by 6pm 2 days prior to arrival to avoid 100% cancellation charge. A valid credit card is required to confirm the reservation.
There are no special offers currently available.