Napa River Inn
Napa, California, United States
Downtown Napa Wine Experience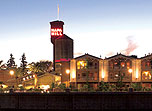 Experience the ultimate Napa Wine vacation with the Napa River Inn.
This package includes:
Luxury accommodations
In-room breakfast
Two downtown Napa wine tasting cards including complimentary and discounted pricing at over 15 wine tasting rooms within walking distance
10 in Oxbucks to the new Oxbow Market.
There are no special offers currently available.