Members of Historic Hotels Worldwide include a number of the world's oldest academies, colleges, and universities. Steeped in a tradition of culture and history, these age-old institutions have an affinity with and are closely allied with some of today's most celebrated historic hotels.
St Andrews, , Scotland, United Kingdom
Bordering the renowned 17th Road Hole of the Old Course, the Old Course Hotel, Golf Resort & Spa overlooks the famous links courses, the West Sands Beach, and the beautiful Scottish coastline. This prestigious AA Five Star-awarded resort has 144 guestrooms, including 35 suites, and is recognized as one of Europe's leading resorts.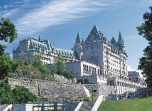 Ottawa, , Canada
As one of Canada's most recognizable landmarks, Fairmont Château Laurier offers an experience few can rival. Stationed in the center of Downtown Ottawa, this recently renovated hotel was built to resemble a Renaissance-era French Château.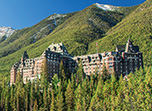 Banff, Alberta, Canada
Fairmont Banff Springs is the luxury stop in the heart of Banff National Park, a UNESCO World Heritage Site. Built by the Canadian Pacific Railway to pursue a grand vision of opening up the Canadian west to tourists, Fairmont Banff Springs has had over 100 years of providing a sophisticated resort experience.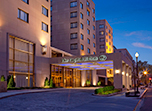 Washington, District of Columbia, United States
One America's most celebrated hotels, the Capital Hilton has been a site for important historical events since its opening date in 1943. Located in the electric downtown district of Washington DC, the Capital Hilton promises luxury accommodations in a setting near the city's most notable attractions, with the magnificent White House located just two blocks away.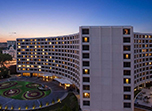 Washington, District of Columbia, United States
The historic Washington Hilton hotel boasts an optimal location in the vibrant nation's capital and features luxury accommodations, contemporary facilities, 110,000 square feet of event space, and a convenient starting point to explore Washington, DC.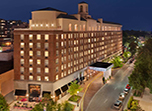 Evanston, Illinois, United States
Offering tastefully-appointed accommodations ideal for business and leisure, the Hilton Orrington/Evanston is a sophisticated Chicago North Shore hotel with amenities like complimentary high-speed Internet access, a full fitness center, 24-hour self-serve business center, a new conference center affording 12,000 sq ft of flexible venues, and valet parking.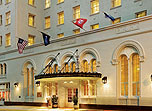 Baton Rouge, Louisiana, United States
After more than $70 million in renovations, the former Heidelberg Hotel has been reborn as Hilton Baton Rouge Capitol Center Hotel. Adjacent to the Shaw Center and River Center Convention Center, it is less than five minutes from the Louisiana State Capitol and only three miles from Louisiana State University.
Detroit, Michigan, United States
A historic gem that is a renowned property for its numerous visitors, DoubleTree Suites by Hilton Hotel Detroit Downtown - Fort Shelby is offers 203 suite accommodations, onsite activities, and plentiful dining options for its visitors to enjoy during their stay. Guests are only steps away from Detroit's coveted destinations, from sports stadiums, to historical sites, to museums, and more.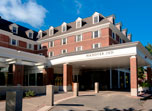 Hanover, New Hampshire, United States
General Ebenezer Brewster, whose home occupied the present site of the Inn, founded the Dartmouth Hotel in 1780 but later burned to the ground and was replaced two years later on the same site by the Wheelock Hotel. From 1901 - 1903, Dartmouth College carried out extensive renovations to the facility, which was then renamed the Hanover Inn.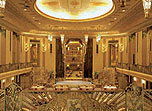 Cincinnati, Ohio, United States
The Hilton Cincinnati Netherland Plaza is a true French Art Deco masterpiece. Opened in 1931, the hotel was an integral part of the first multi-use complex in the United States. Described as a "city within a city," the complex featured an office tower, hotel, fully automated garage, shopping complex and restaurants. Today, the hotel is the city's crown jewel.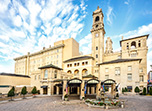 Richmond, Virginia, United States
When Charles Dana Gibson and Irene Langhorne--better known as the Gibson Girl--hosted their engagement party on Halloween 1895, little did they know that their nuptial celebration would be the first in a long legacy of events at Richmond's most revered hotel, The Jefferson. It opened that All Hollow's Eve over 100 years ago, and from that moment it was a sight to behold.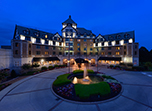 Roanoke, Virginia, United States
Listed on the National Register of Historic Places, The Hotel Roanoke & Conference Center, Curio - A Collection by Hilton encompasses a glorious history that began in 1882. With classic Tudor Revival architecture, luxury accommodations, and a sprawling convention center situated amid the Blue Ridge Mountains, Virginia guests visiting for business or leisure can bask in its distinctly Southern charm coupled with unparalleled hospitality.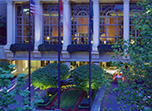 Seattle, Washington, United States
The recently renovated Fairmont Olympic Hotel has redefined downtown sophistication in Seattle, Washington. Open since the 1920s, this hotel has almost a century of service under its belt and has a reputation to match. Celebrating its inauguration with a grand ball, the Fairmont Olympic has continued the tradition of treating every moment like that first night - with impeccable service, attention to detail, and pride.
Campus Hotels
Your search returned 13 results.