AKA Times Square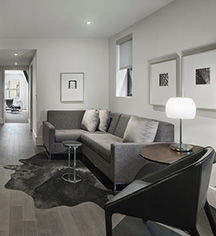 History
The AKA Times Square's historic landmark building was designed by famed architect George Keister in 1893. Its late Romanesque Revival façade is punctuated by Gothic and Renaissance details, derived from German sources and marking the design's rather unique expression (other architects drew from Italian and French sources) in a time of stylistic transition overall. The 13-story, "U"-shaped, salmon-colored brick and limestone building features bowed pairs of bay windows from the third to sixth floor, topped by steeply pointed front gables, and a highly decorated dormer.
Originally known as the Hotel Gerard, it was a residential hotel for short- and long-term occupancies that attracted the well-heeled theater crowd, important dignitaries, and foreign travelers. It was later rebranded as the Hotel Langwell, but the property eventually fell into disrepair during the Depression. The Langwell was lost to foreclosure and sold by the Harlem Institution at auction in 1934 for $585,000. Twelve years later, when it was sold again, the building was cited for numerous fire hazards as the property continued to decline. Once again, in 1950, it was taken by foreclosure and sold for $700,000.
As the Times Square area eroded, the once-proud hotel fell into decrepitude. Apartments, which at one time boasted libraries and sitting rooms, were now broken up to tiny single-room occupancy warrens. By the time Seymour B. Durst owned it in the 1970s, it was a squalid, welfare hotel called the 123 Hotel.
When the building was landmarked in 1982, the New York Landmarks Preservation Commission noted that, "As in 1893, the Gerard dominates West 44th Street between Sixth and Seventh Avenues. The handsome facade with carefully executed brickwork and curving bays and the striking gables and dormers make the Gerard among the most prominent buildings of the theater district." Hotel Gerard was added to the National Register of Historic Places on February 10, 1983.
With the renaissance of Times Square in the 1990s came a reprieve. In 2007, the building was renovated and restored by Korman Communities as AKA Times Square, with a focus on design and sophisticated services for the extended stay traveler. The residential hotel of 105 suites, including duplex penthouses with terraces, included a fitness center, rooftop terrace, WiFi in public areas, business center, and concierge services. Residents at AKA Times Square are not only in one of the city's most prime locations, but are also experiencing a luxury New York City serviced residence experience.

AKA Times Square, a member of Historic Hotels Worldwide since 2016, dates back to 1893.