Alsisar Haveli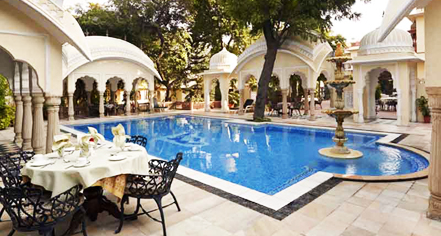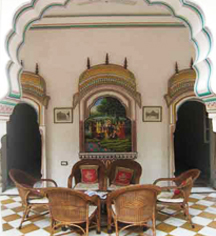 Local Attractions
City Palace
A must visit, the City Palace is home to the royal family of Jaipur, many museums, and a huge complex of courtyards, gardens, and buildings displaying both Rajasthani and Mughal architecture. The exquisite Peacock Gate contains an alluring display of detailed workmanship featuring bright peacocks. Today, the royal family lives in the graceful Chandra Mahal (Moon Palace) bordering the courtyard.
Hawa Mahal
Jaipur's most recognized landmark, Hawa Mahal, meaning Palace of the Winds, was constructed in 1799 and contains five floors of rows of small windows and screens. Legend has it that the palace, which overlooks the main street of Jaipur's lively Old City, was built so that the women of the royal household could watch the streets below without being observed. A beautiful panoramic view of Jaipur can be seen from the rooftop.
Amber Fort and Palace
Atop a hill overlooking Maota Lake, Amber Fort and Palace is something out of a fairytale and only half an hour's drive from the city center. Originally the home of Rajput royalty until Jaipur city was constructed, Amber Fort and Palace contains a number of breathtaking palaces, halls, gardens, and temples.
Nahargarh Fort
Also known as Tiger Fort, Nahargarh Fort is perched high on the rugged Aravali Hills overlooking Jaipur. Built in 1734 to help defend the city, Nahargarh Fort boasts spectacular views, which are best seen at sunset. It also makes a great place for a picnic as there's a cafe on the premises, which serves beer and snacks until 10 p.m.
Jaigarh Fort
A popular attraction for military enthusiasts, Jaigarh Fort was built in 1726 and flanked by towering gateways and watchtowers. Never been captured, the fort contains the world's largest cannon on wheels and has never been fired though. As a result, Jaigarh Fort has remained intact over its long life, and is very well preserved. Visitors are encouraged to climb the Diwa Burj watchtower to get an excellent view over the plains.
Jantar Mantar Observatory
Built by King Jai Singh II between 1727 and 1734, Jantar Mantar literally means "calculation instrument." More than just a curious collection of sculptures, each structure at the intriguing Jantar Mantar Observatory has a specialized astronomical function, which measure time, predict eclipses, and track stars. The most impressive one is the huge Samrat Yantra sundial. At a height of 90 feet (27 meters), it has a shadow that moves roughly the width of a person's hand every minute. It's a profound display of how quickly time does in fact go.
Albert Hall Museum
Modeled on the Victoria and Albert Museum in London, the old and famous Albert Hall Museum exhibits portraits of local kings, costumes, woodcarvings, paintings, and crafts.