Alvear Palace Hotel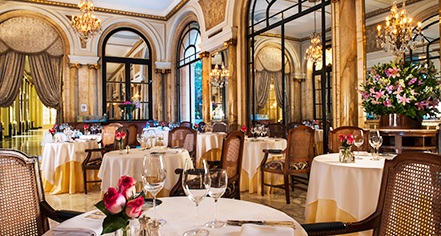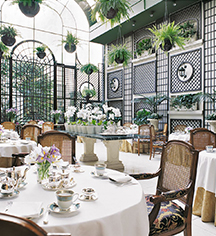 L'Orangerie
L´Orangerie Restaurant at Alvear Palace Hotel is a traditional meeting place in Buenos Aires. Serving a splendid breakfast and international buffet lunch, the restaurant utilizes a great variety of exquisite local products, which guests can enjoy daily in an elegant environment with natural lighting and meticulous décor, presented with the mastery of international culinary techniques.
Breakfast
The opulent restaurant and its cozy winter garden present a complete buffet for breakfast, with a variety of pâtisserie and confectionery prepared on site.
Lunch
For lunch, the restaurant offers a great variety of hot and cold dishes, and delicious desserts, in a sophisticated environment with excellent service.
Monday to Saturday: 12:00 PM to 3:30 PM
Sunday Brunch
Enjoy a magnificent Sunday Brunch created by the chef, a relaxing moment to share with family or friends. This international buffet presents different stations and offers shellfish, seafood, wild game, and the most delicious desserts.
Sundays: 12:00 PM to 4:00 PM.
Alvear Afternoon Tea
The Alvear Palace Hotel is a unique place to spend a special afternoon tasting the delicious cakes, mini pâtisserie, fresh fruit tarts, warm scones, and other delicacies especially prepared by Chef Pâtissier.
L´Orangerie serves a fine selection of teas, including a variety from limited harvests and the most precious aromas of green, black, and blended teas, as well as the traditional flavored tea of the house selection.
A tea specialist created the exclusive "Alvear Blend" which recreates the essence of the Alvear Palace Hotel in aromas and flavors; with the most noble of black tea leaves, almonds, and Mediterranean citrus and rose petals.
Monday to Saturday: 4:30 PM to 7:00 PM
Sundays: 5:00 PM to 7:00 PM
Room Service
In the comfort and intimacy of a guestroom or suite, guests may enjoy the long menu of cold and hot dishes, desserts and snacks, around the clock.