Amerikalinjen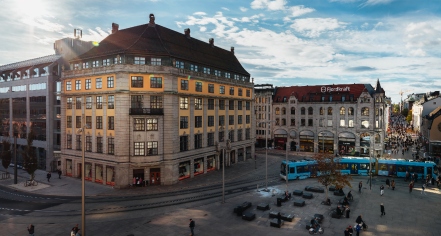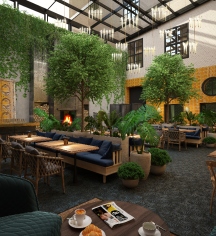 History
Amerikalinjen will open March 15, 2019, to coincide with the 100-year anniversary of the building.

The history of the Amerikalinjen dates back to the early 20th century, when the building served as the headquarters for the Den Norske Amerikalinje (Norwegian American Line). Founded in 1910, the Den Norske Amerikalinje operated as both a cruise line and a freight company that transported mail, cargo, and people from Norway to America. The business had grown to such an extent that by the end of World War I that Den Norske Amerikalinje became one of Norway's largest shipping companies, with an active fleet of 19 ships. Driving this growth was a surge in immigration to the United States, specifically New York City. Thousands of Norwegians passed through the port of Oslo to find new opportunities in America. As such, Den Norske Amerikalinje ferried countless Norwegians across the ocean during much of the early 1900s.
The company soon began looking for a location in the heart of Oslo to build a central headquarters from which it could manage its burgeoning maritime enterprise. Den Norske Amerikalinje selected a site near the city's harbor, developing a beautiful, multi-storied building at the spot shortly thereafter. By 1919, the building, named the Amerikalinjen, was complete. Den Norske Amerikalinje ran its fleet from the Amerikalinjen for the next several decades, gradually transitioning away from transporting people to exclusively carrying cargo. However, competition from other types of transportation slowly eroded Den Norske Amerikalinje's market, causing the company to go under in 1995.
Amerikalinjen is now a prominent boutique hotel nestled along Oslo's majestic shoreline. Over the last few years, the building underwent an extensive series of renovations that breathed new life into the historic structure. The ambitious Scandinavian Design Group oversaw the building's refurbishment, using letters written by the Norwegian immigrants who passed through the Amerikalinjen as the inspiration for their work. The design firm captured the feeling of fluidity and adventure as it reconstructed the Amerikalinjen's marvelous, historical interior for a modern audience. Opening in 2019 to celebrate the building's centennial anniversary, the Amerikalinjen features wonderful guestrooms and suites that honor its prestigious heritage.
Amerikalinjen, a member of Historic Hotels Worldwide since 2018, dates back to 1919.