Amway Grand Plaza, Curio Collection by Hilton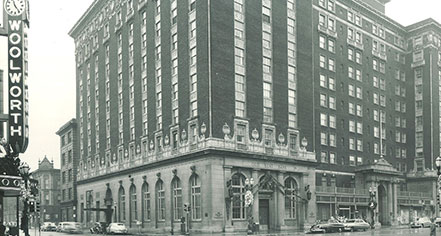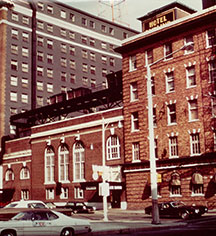 History
The Amway Grand Plaza, Curio Collection by Hilton is known for being the Pantlind Hotel – which was established in 1913 – but the property actually began as the Sweet's Hotel in the early 1900s. It was then purchased by J. Boyd Pantlind, who renovated the hotel and reopened it in 1916. The architecture was fashioned after English Adams by its designers, Warren & Westmore of New York City, who also designed that city's lavish Grand Central Station and Biltmore Hotel. The Pantlind Hotel was known far and wide for its warm hospitality and exquisite cuisine. By 1925, the Pantlind was termed "One of the Ten Finest Hotels in America."
Amway Corporation, part of the Alticor conglomerate, purchased the historic Pantlind and invested in refurbishing and restoring the original building. The property reopened in 1981 as Amway Grand Plaza Hotel and, today, combines the refined heritage of The Pantlind with the modern luxuries of the new Glass Tower.
The Pantlind side of the hotel stays true to its historical roots, showcasing the Old World glamour of its original era. Its signature lobby features three magnificent chandeliers from Czechoslovakia and are made of Austrian Crystal, each weighing approximately 4,000 pounds. The domed ceiling has meticulously hand-applied, tissue-thin gold leaf. More than 7,000 sq ft of ceiling area is covered, making this the largest gold leaf installation in the United States.
This lobby also hosts a wooden-gilded "sunburst" which hung for more than 150 years on the ballroom of Palazzo Moroscini, the palace of a wealthy merchant in Venice, Italy. Under the sunburst is an elegant Sheraton sideboard from the late 1800s along with numerous other Duncan Phyfe and English Adams period pieces.
With details like a brass railing with antique moldings and finials and turn-of-the-century gaslight torchieres now wired for electricity, the Amway Grand Plaza is full of charming surprises throughout its common areas and grand ballrooms.
Today, the hotel plays a critical role in the revitalization and growth of downtown Grand Rapids and remains a popular choice for visitors to Michigan.

Amway Grand Plaza, a member of Historic Hotels Worldwide since 2012, dates back to 1913.