Bårdshaug Herregård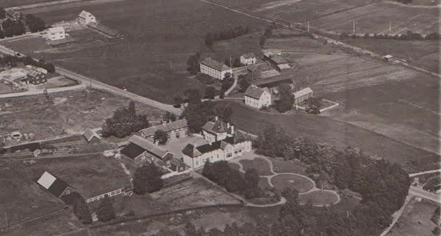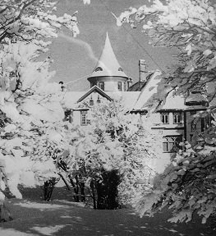 History
Originally a parsonage, Bårdshaug Herregård was purchased by architect, consul, and businessman Christian Thams in the 1890s. Known as a founding member of designing and exporting log buildings, Thams translated his work into rebuilding and renovating Bårdshaug Herregård to become a distinctive manor home. He was responsible for designing homes for many cultural luminaries including Brigitte Bardot, King Leopold of Belgium, and Eiffel tower designer Gustav Eiffel.
Thoughtfully designed and decorated, Bårdshaug Herregård incorporated Christian Thams' interests and hobbies, including a dining room adorned with intricate wooden carvings, a game hunting themed library, a technologically advanced bathroom showcasing a water thermometer, and a bridal suite featuring King Louis furnishings from 1780. The estate became a popular guesthouse with noble visitors including Oscar II of Sweden, The Prince of Monaco, King Leopold of Belgium and Norway's own King Olav V.
After a series of legal problems, Christian Thams fled for Paris and never returned. Today, Bårdshaug Herregård remains much as it did when Thams had used it as a personal residence. A combination of international architecture and decor with romantic furnishings, Bårdshaug Herregård is a testament to Thams' passion of travel and culture.
Bårdshaug Herregård, a charter member of Historic Hotels Worldwide since 2011, dates back to 1890.