Bekkjarvik Gjestgiveri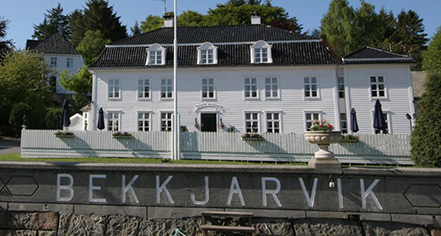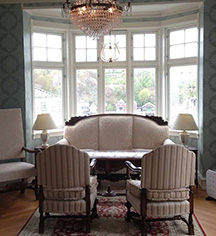 History
Situated near a small harbor on an island off the western coast of Norway, the Bekkjarvik Gjestgiveri has provided a "calm harbor" for guests since its establishment in the late 17th century. It is located in the idyllic fishing village of Bekkjarvik. The hotel was established in response to a 16th century decree by the Danish King Christian IV that there should be a gjestgiveri, a guesthouse, built at every location within a full day's journey to sea. In Bekkjarvik, their commerce included salted herring, exported lobster, and the time-honored craft of barrel-making. Today, the Bekkjarvik Gjestgiveri has a reputation of being one of Norway's most acclaimed hotels.
Guests can relax in guestrooms in the manor or the barrel factory, renovated to retain the style of the past while providing family-sized rooms and suites. The rich history of this hotel provides unique opportunities for today's traveler, such as a session with a local storyteller, fjord fishing with local fishermen, and a visit to the on-site art gallery, Galleri Bekkjarvik. The nearby Nordsjøløypa hiking trail and Bekkjarvik Park provides guests with the opportunity to explore the natural world surrounding this historic hotel.
The dynamic natural environment of Bekkjarvik not only provides peace and quiet for guests, but also the source of ingredients for the Bekkjarvik Gjestgiveri's award-winning restaurant, led by twin brothers Ørjan and Arnt Johannessen. Ørjan won the gold medal in the 2015 Bocuse d'Or professional cooking competition, Arnt was named Kitchen Manager of the Year, and the restaurant has been featured in the Michelin Guide and the White Guide - Nordic. In addition to enjoying world-class cuisine, guests have the opportunity to take on-site cooking classes and enjoy wine tastings of this historic hotel's own wine label.
Bekkjarvik Gjestgiveri, a member of Historic Hotels Worldwide since 2018, dates back to the late 17th century.