Capital Hilton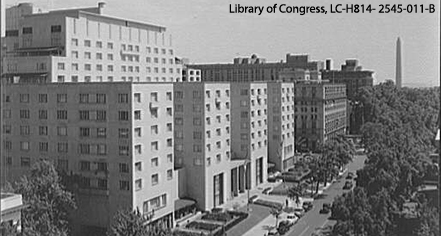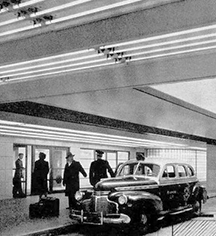 History
The Capital Hilton was first known to its guests as the Statler Hotel, and opened its doors to the public on January 18, 1943 after being constructed during the days of World War II. Since its inception, it has played host to a wealth of prominent gatherings, cementing its identity as one of Washington D.C.'s most notable hotel entities throughout history. Presidents, dignitaries, celebrities, and queens have graced the Capital Hilton with their presence, beckoning guests to delight in the hotel's esteemed accommodations.
When the property opened, travelers marveled at its state-of-the-art features: Central air-conditioning, Zeon tube lighting, a copy of USA Today delivered each week, and such luxurious accommodations and event spaces were unheard of prior to its construction. The Statler Hotel quickly garnered a reputation of exquisite innovation and became revered by those who experienced its glamour. Since the presidency of Franklin D. Roosevelt, each United States president has made it a point to stay at the Capital Hilton and continue decades of unfettered tradition. The hotel has also hosted Princess Elizabeth, Winston Churchill, and Martin Luther King, Jr., creating a lasting legacy from notable public figures.
Throughout the years, the Capital Hilton has not only accommodated influential world leaders, but the property has also been the site for a vast number of historical events. Inaugural Balls, private presidential interviews for vice presidential candidates, and presidential visits have all been held at the Capital Hilton. The hotel was the first to construct an official Presidential Holding Room, now known as the Continental Room, for the president to engage in private conversations. Important moments throughout history have occurred infinitely at the Capital Hilton, as its exquisite legacy continues to thrive today.
1943: Notable celebrities Lucille Ball, Fred Astaire, Judy Garland, and Mickey Rooney visited the hotel to support a large-scale war bond drive.
1947: The U.S. Conference of Mayors Meeting began to be held annually at the Capital Hilton.
1951: General MacArthur crafted the notable "Old Soldiers Never Die" speech in the hotel's elegant Presidential Suite.
1951: Princess Elizabeth visited the hotel to attend the Washington Press Corps reception.
1959: Fidel Castro spoke at the hotel for the American Society of Newspaper Editors.
1965: Following Martin Luther King Jr.'s iconic "I Have a Dream" address, the leaders of the march returned to the hotel.
Capital Hilton, a member of Historic Hotels Worldwide since 2014, dates back to 1943.