Casa Azul Hotel Monumento Historico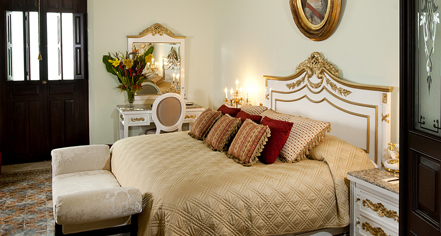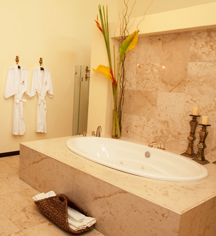 Accommodations
Casa Azul Hotel Monumento Historico offers guests eight spacious and individually decorated suites showcasing the rich history of Yucatan and Mexico.
San Idelfonso
Inspired by the glorious Yucatecan Cathedral built by King Felipe II in 1561 and dedicated to the Patron Saint of San Ildefonso, the San Idelfonso suite is a splendor of rich golden hues and marble tiling, featuring a king-size bed.
Mejorada
The Mejorada suite is named after the former Franciscan convent of Our Lady of Traffic. This suite pays tribute to the Mejorada of the 17th century with an exquisite king-size bed, refined bedding, and colorfully detailed tile flooring.
Sta. Isabel
Featuring two queen-size beds, romantic wooden furniture, and a rich rose color scheme, the Sta. Isabel suite is named in tribute to the mother of Saint John the Baptist, formerly known as the Chapel of our Lady of Good Travel.
Santiago
Decorated with smoothing minty greens and neutrals, antique furnishings, and a king-size bed, the Santiago suite was inspired by the Apostle Santiago of Spain and the suburb of Santiago, a significant witness of the transformation of the city from pre-historic times.
San Sebastián
In memory of the early-settlement southwest of Merida, the San Sebastián suite offers two queen-size beds, a cool toned scheme, and charming patterned flooring.
Sta. Ana
Taking its name from the artisan and laborer district of the colonial era, the Sta. Ana suite boasts two standard-size beds, a beautiful wrought-iron balcony, and sophisticated furnishings.
Itzimná
Displaying bright golden furnishings and fabrics, a king-size bed, rich wood, and decadant marble, the Itzimná suite is a worthy shrine to the Mayan God Itzimná.
Sta. Lucía
Boasting vintage furnishings, romantic fabrics, and a peach and pink palate, the Sta. Lucia suite pays homage to the Plaza of Saint Lucia.
All suites include:
Television
Telephone
Wireless Internet access
Alarm clock with dock
Minibar
Security box
Air-conditioning
Bathrobe
Slippers
Exclusive bath amenities
Hair dryer
Umbrella
Casa Azul Hotel Monumento Historico, a charter member of Historic Hotels Worldwide since 2012, dates back to 1900.