Casa Madonna La Providence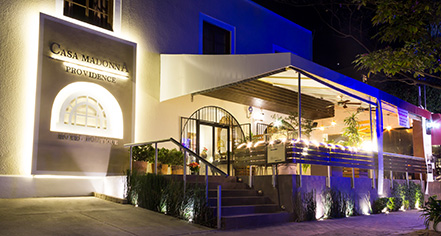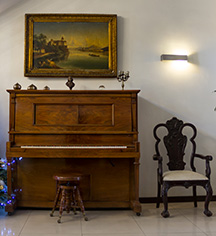 Local Attractions
Chapultepec Avenue
Among all the avenues in the city, Chapultepec Avenue stands out for its size, groves, monuments, and modern constructions. It is known as " The Pink Zone."
Minerva
Minerva is the largest fountain/statue in the city of Guadalajara. The Roman goddess of war, poetry, medicine, wisdom, commerce, and crafts she stands 20 meters high amidst a fountain 74 meters in diameter. Created by sculptor Joaquin Arias, the base contains the names of 18 Tapatíos who were instrumental in creating the city.
Los Arcos
Los Arcos is on Avendia Vallarta, not far from the Minerva statue. This 14 meter double arch was built in 1942 by architect Aurelio Aceves to commemorate the city's 400th anniversary. Reminiscent of European arches, this one contains the coat of arms and welcoming words for visitors, but is far from the entrance to the city.
Niños Héroes
An imposing monument 50 meters high which honors the legend of 6 cadets who refused to surrender during the American invasion of 1847. This statue stands at the intersection of Avenidas Chapultepec and Niños Héroes. Made from pink Cantera stone, it was crafted by Juan Olaguíbel.
Historic Downtown
In this city full of culture, history, and traditions, its historic center is a real gem worth visiting and one day would not be enough to see it all. Among the highlights is the Metropolitan Cathedral, the Cabañas Cultural Institute, and the Latin American Library. There is also a wide range of museums such as the Sacred Art, Archaeology, Folk Art, and more.
Cathedral of Guadalajara
The city's most famous landmark, located in the heart of downtown Guadalajara. Its beautiful exterior is picture perfect, day or night. The interior has many lifelike statues, and visitors are encouraged to visit the caverns/mausoleum.
Cabañas Cultural Institute
Designed by architect Manuel Tolsa, construction for the Cabañas Cultural Institute began in 1805 under a neoclassical style. It features 23 courtyards, 106 rooms, 78 halls, and two chapels. Originally built for house orphans, elderly, and homeless, in 1983 it became Cultural Institute. The chapel is decorated by the murals of José Clemente Orozco of the history of Guadalajara.
Degollado Theater
Placing the first stone in 1856, the theater opened exactly ten years later. The neoclassical building features 16 distinctive portico columns. The theater is home to the Philharmonic Orchestra of Jalisco, the Folkloric Ballet of the University of Guadalajara, the Ballet of the City of Guadalajara, and various artistic performances.
Libertad Market
Also known as Mercado San Juan, this market is considered one of the largest in Latin America with an area of 40,000 square meters. It is packed with approximately 2,800 vendors. Visitors can find hand-made crafts, embroidered clothing, costumes, ponchos, sweaters, Guayabera shirts, jackets, and more. At the top are taverns and small restaurants for food and snacks.