Chablé Resort & Spa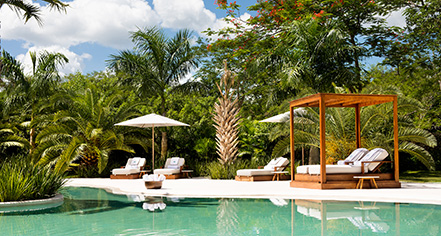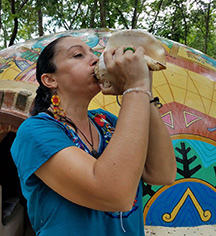 Activities & Events
On a daily basis, Chablé Resort & Spa offers a series of activities focused on a particular sense, emotion or thought. Guests are invited to participate in all wellness, balance, and cultural activities offered during their stay.
Wellness and Fitness
The demands and pressure of modern daily life often separate us from our real purpose: to be alive, aware, to have food, shelter, family and friends, dreams, or simply enjoying the here and now. Chablé invites you to dedicate a bit of your day to be self-aware through Breathing Practice, Gratitude Practice, Zen Meditation, Morning Walk Meditation, or Qigong.
From gentle yoga to Reiki, Chablé offers activities to help guests find mindfulness and balance in their life by centering their breath and body, aligning the physical and mental by practicing stillness, and gentle movements through Hatha Yoga, Vinyasa, Restorative Yoga, Tai Chi, and Reiki Healing.
Indoor fitness activities include Hybrid Muscle Training, Pilates, Cycling Boot Camp, Salsa Lessons, Combat Fitness, and Kinesis Private Training. Outdoor activities include Biking, Running Club, Aqua Fitness, Animal Motion, Tennis Clinics, and Paddle Tennis.
Gastronomical and Cultural
Being at Chablé is the perfect opportunity to deepen your knowledge of the Maya Civilization, the local culture, and the enjoyment and true understanding of the Mexican Felicidad.
For the Hands on Maya Experience, guests will be transported to a different realm and time, inside a kitchen of a genuine Maya home. Guest will make their own tortillas from fresh corn, learn how to peel and roast local chilies in a rustic hotplate to create salsas, and cook a delicious Pok Chuk.
When guests witness the inherent magic of transforming the simple bean into chocolate, it is easy to understand why the Aztecs considered "xocolātl" the gift from Quetzalcoatl, the god of wisdom. The Cacao Transformation shows how fresh, local cacao beans are toasted and grounded, with ancestral techniques, until the final product is obtained.
Chablé is home to one of the most impressive collection of craft tequilas in Mexico. The Tequila and Chocolate Experience is one of self-indulgence and experimentation. This tasting experience involves the flavors of the most exclusive, finest, and distinct tequilas; flavored not only by the soul of agave but also with unique samples of the best chocolate found in Mexico.
To say that Chablé has a spectacular wine cellar is an understatement. Its sensual, round-shaped walls exude the intoxicating aromas of local woods and are only the introduction to the surprising and revolutionary tones of Mexican wines. Little is still known abroad about the unique grapes grown only in certain regions of Mexico, which give life to the magnificent Nebbiolo, Grenache, Shiraz, and Mexican Cabernet. Guests can indulge in a Wine Tasting to learn more.
Avid to honor the idiosyncrasy, culture, and talent of the hands of the Local Artisans, Chablé is pleased to bring some of their unique pieces to guests, including handmade bags, shawls, hammocks, baskets, and more. Different members of the community are invited once a week to showcase their work.
Temazcal Ceremony
This "House of Heat" is the Mesoamerican version of a sweat lodge. It was used as part of a curative ceremony thought to purify the body after exertion, such as after a battle or a ball game. It was also used for healing the sick, improving general health, and for women's reproductive purposes.
The temazcal experience at Chablé is designed to relax and cleanse the nervous system, help to eliminate fat and toxins, and stimulate the digestive and respiratory systems. This beautiful, deep, and powerful ceremony is led by a shaman, who takes guests through a fascinating journey that involves heat, chanting, rocks, fire, and teas.