Chablé Resort & Spa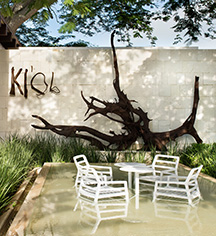 Dining
Chablé Resort & Spa's culinary offerings were designed by acclaimed Chef Jorge Vallejo. His restaurant, Quintonil in Mexico City, is number 22 on Eater's "The World's 50 Best Restaurants" in 2017. Under his leadership, Executive Chef Luis Ronzón enhances the gastronomic experience at Chablé's three restaurants – Ixi'im, Ki'ol, and Spa.
Ixi'im Restaurant
Ixi'im, which translates to "corn" in the Mayan language, offers a refined setting within the lush jungle of Chablé's expansive grounds. The sophisticated menu created by Chef Jorge Vallejo showcases an innovative blend of Mexican and local influences, integrating fresh herbs, fruits, and vegetables harvested and gathered from the resort's traditional Maya Garden. The restaurant also features the largest Tequila collection in the world, innovative cocktails, and a tailored wine list. Ixi'im is Chef Vallejo's second project following the successful debut of Quintonil.
Ki'ol Restaurant
Honoring its name in Mayan, which means "healthy," Ki'ol is a breath of fresh air. Within its oasis-like, vibrant, tranquil ambiance, Ki'ol offers delicious meals crafted with fresh produce grown in the Maya Garden. Healthy and hearty breakfasts, ceviches, Mexican tostadas, and light snacks garnished with nourishing ingredients, are among some of the dishes to be enjoyed while sunbathing. Open for breakfast, lunch, and dinner, diners can expect an array of dishes that go from local and traditional to international and exuberant. In terms of cocktails, Ki'ol serves them all, from the classic pool-side drink to the daring spirit mixes - let the mixologist guide you.
Spa Restaurant
In keeping with the holistic approach of the wellness and spa program, the Spa Restaurant emphasizes nutrition and healthy food. The cuisine offers balanced eating with delicious menus, showcasing deep flavors. The menu consists of four predesigned menus, each one with four courses to choose from. The restaurant offers soy and almond milk options and yeast-free breads, raw unprocessed honey replaces sugar, and all dishes include minimal salt. Fresh, uncooked fruit and vegetables rich in living enzymes prove key in the extensive juice and vegetable extract menu, in addition to an extensive array of teas.
Maya Garden
At the heart of Chablé is a traditional organic Maya Garden, recreating harvesting techniques that have not been used in over a century. Chablé's culinary experience of farm-to-table is based on the fruits, vegetables, and herbs sourced from this garden. The Maya Garden consists of raised garden beds made from local woods and constructed using no man-made elements - this was known in Mayan as "Ka'anche's." Each bed is filled with organic soil and seeds harvested through traditional Maya methods by Chable's resident Maya horticulturist. Upon request, guests will have the opportunity to partake in the gardening process during their stay.