Ciragan Palace Kempinski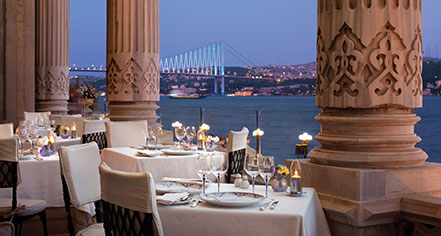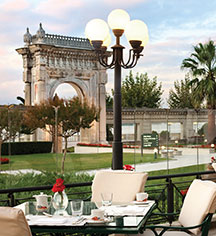 Dining
The Cıragan Palace Kempinski İstanbul offers a rich variety of restaurants, all offering a balcony or a terrace overlooking Bosphorus, and seating for up to 200 diners.
The Gazebo Lounge serves an à la carte breakfast from 08.00 to 12.00 hrs, and delicious pastries, cakes, and chocolates until midnight. It hosts the city's most popular Afternoon Tea every day from 15.00 to 17.00 hrs. Gazebo Lounge is known as the place "to see and to be seen" points of the city.
The elegant and award-winning Tuğra Restaurant & Lounge, located on the first floor of the historic Palace, offers its guest the ultimate Ottoman dining experience that becomes palatal rituals. Among its numerous awards, Tuğra has earned "Most Creative Menu Tuğrul Şavkay Special Award," the American Academy of Hospitality Services Award, "One of the World's Best Hotel Restaurants" by Hotels Magazine, and the Travel + Leisure honor. Tuğra Restaurant is open in the evenings from 19:00 to 00:00 hrs.
The main restaurant of the hotel, Laledan Restaurant is famous for having the city's best breakfast and brunch. It serves an open buffet breakfast daily with over 250 items with mostly organic ingredients, and Arabic and Asian corners. The legendary Çırağan Brunch is hosted between 12.00 to 16.00 hrs on Sunday. Laledan serves an all-day dining menu, boasting delicious comfort food and regional specialties, overlooking a palm garden and the Bosphorus awaits its guests from noon to midnight.