Citadel Inn Hotel & Resort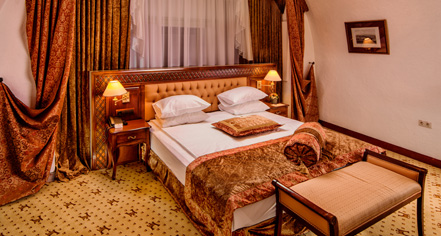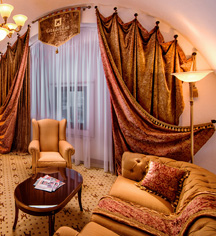 Accommodations
Boasting 26 luxurious accommodations, Citadel Inn Hotel & Resort offers a variety of guestrooms and suites furnished with comfortable fixings and unrivaled service.
Decorated in warm pastel colors, Standard Rooms ensure a relaxing and cozy stay. Each guestroom features a luxurious bed, work desk, coffee table, wardrobe, and bath with walk-in shower.
Furnished with a double bed, beautiful fixings, expansive wardrobe, flexible work desk, and spacious bath, Superior Rooms feature a soft palette to complement the comfortable, luxurious space.
Each highlighting the significant history of the hotel, Suites boast aristocratic style and feel with two separate bedrooms to ensure privacy and the ultimate indulgence. The unique suites feature stylish, soft furnishings, crystal chandeliers, king-size beds, and a spacious marble bath. A suite dedicated to the great F.J. Habsburg, the "father" of Lviv Citadel, is available.
Citadel Inn Hotel & Resort, a charter member of Historic Hotels Worldwide since 2013, dates back to 1850.
Guestroom and suites amenities:
Refined buffet breakfast
Mini-bar
Television
Telephone
Bathrobes and slippers
Secured car parking
SPA-centre services (sauna and fitness hall)
Welcome wine bottle at 5 PM
Complimentary wireless Internet access
Complimentary newspapers
Baggage handling