Citadel Inn Hotel & Resort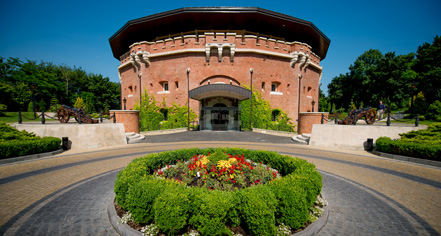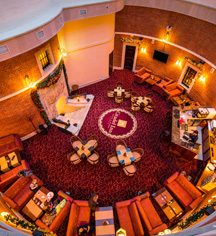 Dining
Garmata
Boasting spectacular panoramic views over Lviv, Garmata Retaurant is located on the third floor of the hotel and lends a truly romantic ambiance. Creative European cuisine is served daily including a breakfast buffet with fresh fruits, juices, and omelets. With expansive windows, Garmata invites natural light that complement its warm tones, authentic wall paintings, and elegant fixings.
The main dining room can accommodate up to 100 guests and an exclusive VIP room is available for private dining experiences. Live music is occasionally featured.
Lobby Lounge
Serving cocktails, hot and cold appetizers, and desserts, the Lobby Lounge is situated in the center of the hotel and a popular meeting spot for locals and visitors alike. Ideal for casual meetings or an afternoon snack, the lounge is open 24 hours a day and is highlighted by its frescos, paintings, and its glass dome ceiling, creating a unique experience. At night, the dome invites a unique, starlit ambiance, ideal for celebrating or enjoying a romantic night.
Cigar Room
Offering a casual space, the Cigar Room offers the best hookah lounge and cigar selections for guests to enjoy.
Summer Terrace
Seasonally open, the Summer Terrace offers a casual outdoor setting, serving a gourmet grill menu and exquisite desserts.
Wine Cellar
Open for special occasions and by request, the Wine Cellar offers wine tastings in a private or group setting.