Dalen Hotel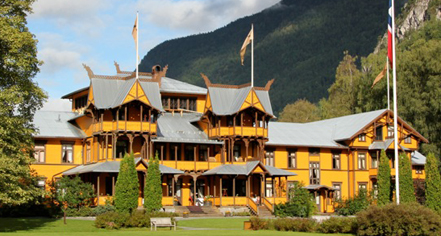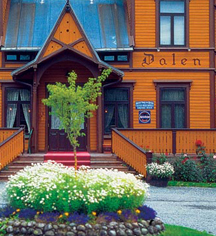 Activities & Events
The verdant garden at the Dalen Hotel is perfect for leisurely strolls. The garden leads down to the end of the Telemark Canal. When summer weather permits, dinners are served alfresco under a beautiful old sugar maple.
Dalen Hotel also has two small row boats for guests to take out on Bandak Lake. The hotel also rents croquet sets.
The valley surrounding Dalen Hotel is rich with flora and fauna not seen elsewhere in Norway. Guests are encouraged to walk the path by the canal out to Buøy, where beavers play in the river and deer frolic by the woods.
Upon arrival, guests are welcomed by The Girl with the Fish in front of the hotel. This is a sculpture by Anne Grimdalen who grew up on a farm not far from the hotel. Grimdalstunet in Skafså is a popular destination where Grimdalen's sculptures are on display.