Dalen Hotel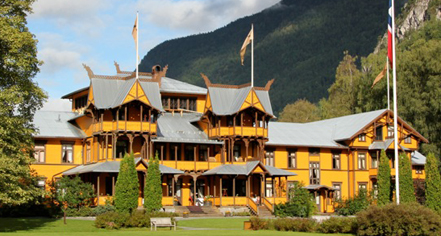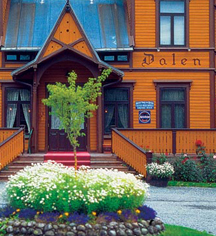 Local Attractions
Telemark Canal. Many guests combine a visit to Dalen Hotel and a cruise on the scenic 150-year-old Telemark Canal with its 18 locks. In the summer, the historic boats M/S Henrik Ibsen and M/S Victoria sail daily between Skein and Dalen. There are daily bus departures in both directions between the hotel and Skien in the southern part of Telemark.
Grimdalstunet Museum and West Telemark Museum. These museums offer exhibitions, artworks, historic stories and buildings like restored Stave churches from around the year 1200.
Community events in Dalen and Tokke include:
Tours of the Åmdals Verk mines
Great-grandmother's street breakfast — a free breakfast in Dalen served in the street
Dalen market days
The pier exhibition at the Dalen Brygge
Dancing at Grimdalstunet
Telemarkskanalrittet annual bicycle race from Dalen to Lunde
Songs along the canal and midsummer celebration at the West Telemark Museum
Dalen Hotel also has two small row boats for guests to take out on Bandak Lake. The hotel also rents croquet sets.
The valley surrounding Dalen Hotel is rich with flora and fauna not seen elsewhere in Norway. Guests are encouraged to walk the path by the canal out to Buøy, where beavers play in the river and deer frolic by the woods.
Combine a round of golf at the beautiful Norsjø Golfpak near Ulefoss and Lunde, with a boat tour on the Telemark Canal, and enjoy historic accommodations at Dalen Hotel. The hotel arranges packages for guests.
Dalen Hotel has both indoor and outdoor tennis courts.
Swimmers enjoy an indoor pool, while beachgoers relax at Bandak Lake.
Hiking and Skiing. The countryside surrounding Dalen Hotel is endless in its variety. Hikers enjoy mountains, valleys, lakes, and waterways. Guests may hike along marked paths, or view the scenery while paddling along in a canoe. Highly recommended is the path to Lårdal — a challenging hike with the remarkable reward of a bird's eye view of the Telemark Canal, surrounded by soaring mountains.
In the wintertime, guests can choose between miles of marked ski tracks, or unspoiled snow-covered moorland.
When hiking along the Lårdalsstigen, or traveling the Telemark Canal, keep an eye out for two unique rock formations known as Risen og Gygri (The Troll and His Wife). The area has a rich and varied animal population. Guests may see elk, deer, beaver, and eagles. Lynx, bear, and wolf are seen less frequently.