Distrikt Hotel Pittsburgh, Curio Collection by Hilton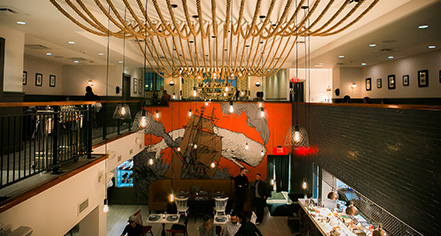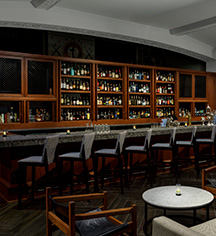 Dining
or, The Whale
Enjoy a delicious meal at the Distrikt Hotel Pittsburgh, Curio Collection by Hilton's restaurant, or, The Whale. Inspired by Herman Melville's timeless masterpiece, Moby Dick, this superb restaurant offers a delightful menu of fresh seafood and locally-grown produce. Every dish is cooked to perfection with a delicious profusion of French-inspired flavors. Sommeliers are present to ensure that only the finest wines are paired with the appetizing cuisine prepared by or, The Whale's incredibly talented staff. The restaurant boasts a spacious, yet warm, two-story dining room that wonderfully captivates the historic charm of the building. Guests will particularly relish sitting in the venue's recently renovated second-level loft track, which grants for exciting views of the bustling open kitchen down below.
Sunday through Thursday, 7:00 a.m. - 10:00 p.m.
Friday and Saturday, 7:00 a.m. - 11:00 p.m.
The Boulevard Lounge
A true American neighborhood pub experience, featuring a selection of soups, salads, bar-bites, and the lounge's signature gumbo, burger, and fish sandwich. Pair an entrée with a beer special, wine, or favorite cocktail from your friendly bartenders downtown! Whether pre-game, post-game, for the game, happy hour, or just a friendly get-together; the Boulevard Lounge is the place where Pittsburgh meets!
Tuesday through Saturday, 4:00 p.m. - 11:00 p.m.