Distrikt Hotel Pittsburgh, Curio Collection by Hilton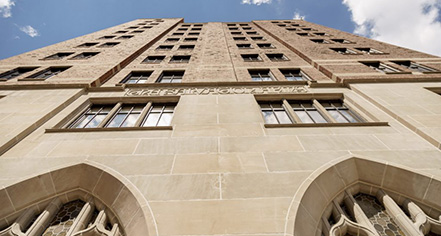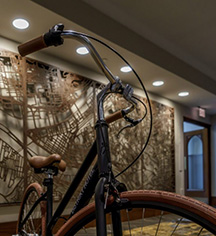 Local Attractions
Set within the hallowed corridors of the Firstside Historic District, the Distrikt Hotel Pittsburgh, Curio Collection by Hilton is surrounded by a wealth of exciting attractions to experience. The majestic waters of the Monongahela River are just steps away from the hotel, granting guests a fantastic opportunity to visit the many verdant public parks that line its picturesque banks. Mount Washington looms in the background on the opposite side of the river, offering breathtaking views of the entire city. Countless cultural institutions are just minutes away, including the remarkable museums affiliated with the Carnegie Institute. Some of the best shopping and fine dining in the area is situated nearby at such vaunted locations like Station Square and Fifth Avenue Place. Nowhere is better to enjoy everything that the Steel City has to offer than at the Distrikt Hotel Pittsburgh, Curio Collection by Hilton.
Andy Warhol Museum
The Andy Warhol Museum contains the largest collection of artwork created by Andy Warhol, Pittsburgh's most famous artist. One of the four museums that constitute the internationally renowned Carnegie Institute, its exhibits cover all the facets of his illustrious artistic career.
Carnegie Museum of Natural History
Another one of the museums that constitute the Carnegie Institute, the Carnegie Museum of Natural History is dedicated to educating visitors about the mysteries of the natural world. Originally founded in 1896, its many displays showcase a myriad of stunning artifacts that include dinosaur bones, ancient mummies, and gorgeous gemstones.
Carnegie Science Center
On the north bank of the Allegheny River is the huge Carnegie Science Center, which offers more than 250 hands-on exhibitions. Another one of the impressive institutions that constitute the Carnegie Institute, this magnificent museum teaches visitors the ways in which science touches every aspect of daily life.
Carnegie Museum of Art
The Carnegie Museum of Art houses an extensive collection of American and European artwork that is celebrated the world over. A plethora of Impressionist and Post-Impressionist art defines the space in the form of paintings, sculptures, and other kinds of rare artwork. The Carnegie Museum of Art is also an integral part of the celebrated Carnegie Institute.
Station Square
Located directly across the river in the South Shore neighborhood, Station Square is home to some of the best shopping and dining in Pittsburgh. This brilliant complex is home to around 60 upscale storefronts, as well as more than 14 unique, mouthwatering dining establishments.
Mount Washington
No trip to the Steel City is complete without a sojourn across the Monongahela River to Mount Washington. A cherished landmark in Pittsburgh, the neighborhood is replete with its own extensive offering of thrilling destinations like Grandview Park and the Point of View Statue. The Duquesne Incline has been an especially favorite attraction among visitors, as the ride provides for breathtaking sights of the whole city.