DoubleTree by Hilton Dundee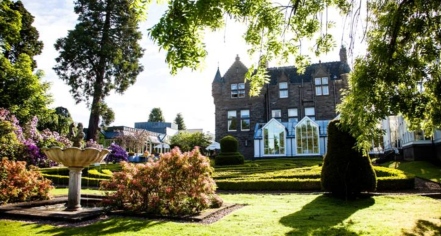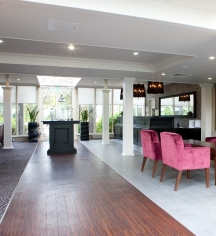 History
At the beginning of the 19th century, Dundee, Scotland was turning into a major commercial center. Factories sprung up across the city at a rapid pace, making many goods such as linens, jute, and shipbuilding materials. Some of Dundee's new industrialists manufactured paper as well, creating several mills throughout the area. Among the largest was a sprawling industrial complex called the Bullionfield Paper Mills, which Scottish business magnate Alexander Cowan developed with his sons during the 1850s. Together, they chose a bleachfield on the western edges of Dundee as the site for their new enterprise. It did not take long for the Cowans to turn a profit. Within a matter of years, the Bullionfield Paper Mills had produced countless tons of paper with a workforce that numbered in the hundreds.
In 1862, the Cowans hired a new manager named David Watson to supervise the Bullionfield Paper Mills. Watson successfully ran the mill for several years, amassing a small fortune in the process. With his newfound wealth, Watson hired Scottish architect Campbell Douglas to create a new home for both himself and his wife, Hannah Parker. Douglas soon began constructing a magnificent, two-story manor just to the north of the mill, which became known as the Greystane House. He fabricated its façade with stunning Baronial-style architecture, using rustic rubble masonry to build the exterior. Inside, the rooms displayed marvelous elements of neo-Classical design, as well as beautiful wooden ceilings and majestic wall decorations. A vibrant garden also surrounded the location, enclosed with stone fences and iron railings. When Douglas finished the project in 1870, Watson and Parker eagerly moved into their new abode.
A year had barely passed when David Watson managed to acquire the Bullionfield Paper Mills from the Cowans. He was the business's sole proprietor for the next thirty years, frequently receiving glowing recognition for his work. Watson's success catapulted him into the upper echelons of Dundee society, where he used his influence to pursue various philanthropic causes in his spare time. When Watson died in 1901, he was one of the most successful industrialists in Scotland. The mill carried on as a profitable business after his death, but it eventually closed during the mid-1960s.
In the meantime, the Greystane House had left the possession of the Watson family. Under new ownership, the building became a hotel. The building's many different proprietors called it by various names, including the Greystane Hotel, the Swallow Hotel Dundee, and the Landmark Hotel. Hilton Hotels is now its most recent owner. After completing a significant period of renovations in 2013, Hilton relaunched the hotel as part of its prestigious DoubleTree collection. Today, Hilton operates the building as the DoubleTree by Hilton Dundee to much acclaim.
DoubleTree by Hilton Dundee, a member of Historic Hotels Worldwide since 2018, dates back to 1870.